Empowering India's women through community groups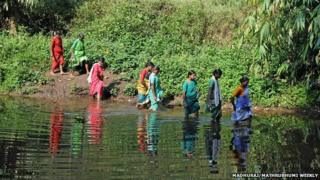 When 60 women in Edamalakudi in India's southern state of Kerala recently carried about 100 solar panels on their heads across 18km (11 miles) of hill, forest and wild elephant territory, they made history of sorts.
In this remotest cluster of villages where 240 families live, there is no electricity.
Solar panels and batteries are the only source of power on which you can even run the odd television set.
When the local elected village council acted to try and reach solar power to all, these women took on the task.
They formed a 'chumattu koottam" (head-load workers group), riling local male porters who had enjoyed a monopoly over such work.
They picked up the panels from Pettimudi - close to Munnar town, 18km away and the nearest point to which vehicles could reach - and carried them across hostile, hilly, up-and-down terrain to Edamalakudi on foot.
The panels, paid for by the village council, weighed up to 9kg (20 pounds) each.
All the women belong to the local Muthavan tribe and are members of Kudumbashree, Kerala's unique anti-poverty and gender justice movement.
Gruelling labour
"It took nine hours to bring the panels," smiles Ramani Arjunan, chairperson of the region's Kudumbashree units. "Some of the stronger ones carried two panels at a time."
Besides getting 85 rupees ($1.44; 85 pence) per panel as porter charges, they earned another 180 rupees as a day's wage under the National Rural Employment Guarantee Scheme, India's most ambitious employment generation scheme for poor people.
It was hardly great money for such gruelling labour. Yet, it was greater than what they would earn on most days in the year in this isolated zone. The women are ready to take on more such work, says Ms Arjunan.
But the Kudumbashree or CDS - community development society - groups in Edamalakudi do far more challenging things.
They do group farming in small plots. They are focused on food crops and, in those, on organic farming. They also practice shifting cultivation.
It's hard work, but they are successful farmers. Only, this is jungle, and elephants, wild pigs and other animals often ravage their rich crops. A high-risk livelihood anywhere, farming here has the added element of physical danger. Since this is forest land, the women also have no proof of ownership and will not get title deeds.
"There are 40 CDS groups in Edamalakudi," says Ms Arjunan. "Of these 34 are into farming. Each group has five members or families involved."
She is gentle, soft-spoken, yet clearly a strong leader. Sitting alongside her are about 30 other Kudumbashree members.
Different voices speak.
"Our farming groups grow ragi, paddy and other food crops. We also grow some tapioca and plantains," says a member. Some even grow a bit of cardamom. "But overwhelmingly, we grow food crops."
"The crops did well, but there were two problems. One: the wild animals who ravaged 50% of our first crop. Two: for any surplus, where's the market? We have to walk through 18km of wild elephant territory to reach one," says another group member.
'Group farming works'
How vital is the market?
"Our first aim is to feed our families. We take only what's left over to market. However, that part also helps, giving us money to buy other things we need. But there's no access road. No transportation," says a member.
"We need a bank branch here. Just a handful of us have bank accounts."
Which is more important to them: group or individual farming?
Both have a role, they say.
"Group farming is better," says Ms Arjunan, as many around her nod in agreement.
"In collective functioning, if one person falls behind, the others will help her manage."
"I like to do individual farming, too," says another woman. "That has its own rewards. But this way helps us feed our families better. As a group, there are also effects beyond farming. Members become a source of support and solidarity for each other. This spills over into family life as well. That is very important to us. So why should we not do both?"
Professor Ananya Mukherjee-Reed of Toronto's York University has written on how these groups have an innovative approach to food security.
"Some 250,000 Kudumbashree women throughout Kerala have come together to form farming collectives which jointly lease land, cultivate it, use the produce to meet their consumption needs and sell the surplus to local markets."
"This," she points out, "increases the participation of women in agriculture ... [and] ensures that women, as producers, have control over the production, distribution and consumption of food."
The women of Edamalakudi do all of this under the most difficult conditions.
Do they see themselves as producers or as paid labourers? Every single one of them wishes to be seen, and sees herself, as a producer.
Ms Arjunan argues that the new road being planned to her village will destroy the forest and affect the lives of the tribes-people.
I ask whether it's contradictory to complain about having to trudge 18km each way to get the produce to the market while protesting against the planned road.
"Not at all," Ms Arjunan says.
"We are not asking for an open highway. We seek a fully-controlled 'jeep road' to which there is restricted access. Controlled under forest law, it would limit access to miners, timber-seekers and other outsiders. We would not be overrun. But we would have access to market."
Now it is getting dark and the women who have come to meet us from other, far-off hamlets, must leave. They have a long trek to do through the jungle in poor light.
P Sainath is Rural Affairs Editor of The Hindu