Gopinath Munde: India cremates minister killed in car crash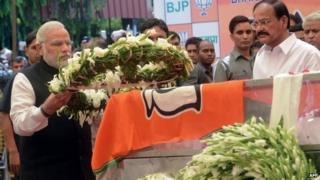 India's newly appointed rural development minister, who died in a car crash on Tuesday, has been cremated with full state honours.
Gopinath Munde's funeral pyre was lit by his daughter Pankaja Munde-Palve at his village in Maharashtra state.
Several senior BJP leaders and tens of thousands of people were in attendance.
Mr Munde was on his way to the airport to take a flight to his home state of Maharashtra when his car was hit by another car in Delhi.
Doctors at the AIIMS hospital said he was not breathing when brought in and efforts to resuscitate him failed. The post mortem showed he died from a spinal fracture.
Since Wednesday morning, thousands had gathered in Mr Munde's ancestral village Parli for his last rites.
His body was flown from Mumbai to Latur town from where it was taken by road to the village.
Mr Munde, 64, was appointed just last week to Prime Minister Narendra Modi's new government.
Mr Modi described Mr Munde as "a true mass leader" and said that "hailing from backward sections of society, he rose to great heights and tirelessly served people".
He was deputy leader of his party, the Bharatiya Janata Party (BJP), in the last parliament.
India has some of the most dangerous roads in the world - nearly 140,000 people died in road accidents in India in 2012, according to the government's National Crime Records Bureau.