Indian media: 'Course confusion' in Delhi University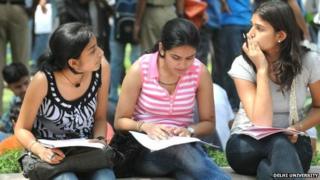 Students seeking admission in Delhi University (DU) are "caught in the crossfire" between the institution and the country's university watchdog, papers say.
Last year, the university decided to stretch its three-year under-graduate courses to four years.
The country's university watchdog, University Grants Commission (UGC), has now recommended that the DU must revert to the three-year system.
Caught in this "face-off", several colleges associated with the DU have decided to defer admissions for the new academic year, reports say.
"The continuing face-off over the four-year undergraduate programme (FYUP) earned Delhi University a dubious distinction on Monday…principals of all constituent colleges on their own decided to defer admissions for 2014-15 till the FYUP issue was resolved," The Times of India says.
This confusion has left students waiting for admissions this year. And those who took admission in the FYUP last year are also facing an uncertain future, reports say.
"At present, there are 60,000 students under the FYUP. This controversy has cast a shadow on this year's admission process, which was due to begin on Tuesday, putting the future of more than 200,000 students in jeopardy," the Hindustan Times says.
The paper holds both DU and the UGC "responsible for this confusion".
"If the DU did not do its homework and failed to bring all stakeholders on board before rolling out the programme, the UGC also shirked its responsibility in the first instance," the paper says.
Himalayan heritage
Meanwhile, in a shocking case, a veterinary drug was given to humans at a government hospital in northern Rajasthan state, The Hindu reports.
The drug was procured by the hospital under the government's free medicine scheme, the paper says.
"While no adverse reactions have been reported by the patients who received shots intended for animals, the Rajasthan government has suspended the store keeper and ordered a high-level inquiry into the lapse," the paper adds.
Elsewhere, more people die in road accidents in Delhi than any other Indian city, a report suggests.
"Delhi tops the list among cities in the country in terms of fatal road accidents with five people - four of whom are pedestrians and two-wheeler riders - losing their lives every day, a report by Centre for Science and Environment (CSE) revealed on Monday," The Indian Express reports.
And finally, a national park in northern Himachal Pradesh state has become a UNESCO World Heritage site, the First Post website reports.
The Great Himalayan National Park Conservation Area in Himachal Pradesh is India's richest biodiversity spot in the western Himalayas, the website says.
BBC Monitoring reports and analyses news from TV, radio, web and print media around the world. For more reports from BBC Monitoring, click here. You can follow BBC Monitoring on Twitter and Facebook.