Indian media back efforts to rescue citizens from Iraq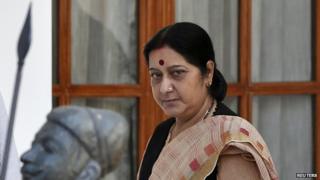 Media back Foreign Minister Sushma Swaraj's diplomatic efforts to rescue kidnapped Indian citizens from the rebel-held areas of Iraq.
Ms Swaraj chaired a meeting with envoys from the Gulf countries on Sunday to discuss ways to rescue Indians trapped in the Middle Eastern country.
Envoys from Qatar, Oman, Saudi Arabia and the UAE attended the meeting, reports said.
"It was aimed at chalking out a future strategy for the safety and evacuation of Indian nationals in Iraq. The meeting also reviewed the steps taken so far in this regard," The Times of India reports.
Islamist militant group Isis (the Islamic State in Iraq and the Levant) has seized Tikrit and Mosul among a number of other Iraqi cities in recent weeks.
At least 46 nurses are trapped in a Tikrit hospital and 39 construction workers have been kidnapped in Mosul.
India deployed a warship in the Persian Gulf on Saturday and has also kept jets on standby for rescue operations, reports said.
"The government has also decided to transfer part of the welfare funds in the Indian missions in Gulf countries to its embassy in Baghdad to help facilitate the departure of its nationals," reports The Indian Express.
Also, camps have been set up to facilitate the evacuation, The Times of India adds.
"In the immediate term, for India, deploying warships in the Persian Gulf and setting up camps in Iraq to expedite the departure of Indians should inform expatriates in the region about Delhi's preparedness," an editorial in The Indian Express says.
Meanwhile, newspapers continue to express concern over the safety of India's refineries after a gas pipeline explosion killed 14 people in the southern state of Andhra Pradesh on Friday.
The Deccan Herald blames the state-owned Gas Authority of India Limited (Gail) for what it calls "criminal negligence".
"The horrific tragedy - the biggest pipeline fire in the history of the country - has exposed criminal negligence and an inexcusable lapse of duty on the part of the officials of the Gail," the paper says.
It adds that the probe ordered by the government is "not enough" and "those responsible should face not only departmental action but criminal proceedings".
And finally, Delhi residents may have to wait longer than usual for the monsoon rains to arrive, The Times of India reports.
"The southwest monsoon missed its date with Delhi on Sunday and is not expected till the end of this week," the paper says.
BBC Monitoring reports and analyses news from TV, radio, web and print media around the world. For more reports from BBC Monitoring, click here. You can follow BBC Monitoring on Twitter and Facebook.