Probe into India building collapse as toll reaches 55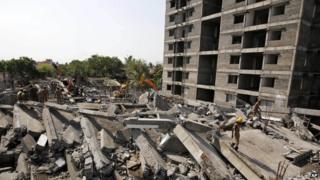 The death toll in the building collapse in the southern Indian state of Tamil Nadu has reached 55 as authorities have ordered an investigation.
Tamil Nadu Chief Minister J Jayalalithaa said the probe would be led by a retired judge.
Some 27 survivors have been pulled from the rubble, and it is not clear whether any more are trapped in the debris.
Around 80 workers were in the 11-storey building which was under construction when it toppled on Saturday night.
India has seen frequent building collapses, many blamed on lax safety and substandard construction materials.
At least six people, including construction company officials, have been arrested in connection with the collapse in Chennai (Madras), the capital of Tamil Nadu.
"Fifty-five people have died in this unfortunate incident," Ms Jayalalithaa said in a statement.
"The [investigation] will find out whose ignorant attitude resulted in such a mishap that left many workers dead and others injured and decide on [fixing] those responsible for it," she said.
While the cause of the latest collapse is still under investigation, a lack of construction codes, leading to lax safety, is one reason for frequent collapses of buildings and other infrastructure projects in India.
There is also a high demand for housing, pushing up costs and forcing less affluent people to risk their lives in decrepit or badly constructed buildings.