Media divided over India's Gaza policy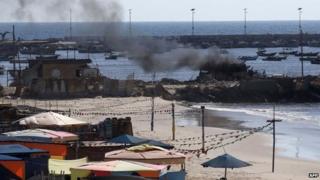 Media outlets are divided over India's policy on the ongoing conflict in Gaza.
Israel has launched air strikes and ground operations in Gaza, as Hamas continues to fire rockets into Israel.
India joined 27 other countries on Wednesday to back a UN Human Rights Commission (UNHRC) resolution to launch a probe into Israel's offensive.
At least 649 Palestinians, 32 Israeli soldiers and three Israeli civilians, have been killed in the past 15 days of fighting, officials say.
However, India's vote comes days after it refused to pass a resolution against Israel in its own parliament.
The Hindustan Times terms India's moves a "flip-flop", adding that "the government was seen as keeping an equal distance from both sides before it again took Palestine's side on Wednesday".
But The Telegraph takes the opposite view, saying that "India's vote kept up a tradition Delhi has followed since independence in 1947 - of always voting in favour of Palestine at UN resolutions".
"The vote came after days of hectic diplomatic lobbying by both Israel and the supporters of Palestine with India… and could so swing any critical UN resolution," the paper adds.
Meanwhile, India's refusal to pass a resolution against Israel in its own parliament is attracting as much debate as its backing of such a resolution at the UNHRC.
Terming it a "shameful silence", the Deccan Herald says that "India's reluctance to condemn the unabated Israeli aggression in Gaza signals a deplorable pusillanimity, moral bankruptcy and lack of principles in Delhi's conduct of foreign policy".
An editorial in The Hindu says that the government "seems to have missed the full import of the Gaza situation by choosing to espouse a minimalist position of equidistance between the Palestinians and Israel".
It adds that the Israel-Palestinian issue "is the core of instability in West Asia, a region that is the lifeline of India's economy because of its huge oil and gas reserves" and that India "should leverage its unique position to persuade both sides to revive peace talks".
But an article in The Pioneer disagrees, saying that the Indian government "has done well to refuse to pass a parliamentary resolution… Israel is a friend and, like India, it too is threatened by Islamist terror".
'Dishonourable low'
Meanwhile, newspapers are outraged over reports that some Hindu MPs tried to forcibly feed a Muslim man fasting for Ramadan.
The MPs from the right-wing Shiv Sena party, which is an ally of the ruling Bharatiya Janata Party (BJP), reportedly took their anger out on a government canteen worker because of the "poor quality of food".
An editorial in The Indian Express says that while the Shiv Sena "will in all probability, continue to stand by its boorishness", the BJP needs to take "exemplary action" against it.
"Given the anxieties that the BJP's massive mandate could encourage displays of majoritarian triumphalism, it is crucial that the government publicly and visibly distance itself from the Sena's action," the paper says.
The Times of India echoes the anger, saying that "even to those having grown inured to Shiv Sena's frequent loutishness, this incident hits a dishonourable new low".
"This time, however, the evidence is on record and they must be booked for assault," it adds.
And finally, Foreign Secretary Sujatha Singh will visit Islamabad on 25 August to discuss the revival of peace talks with her Pakistani counterpart Aizaz Ahmed, a report on the First Post website says.
The visit will be "a major forward movement" in reviving the peace talks between the two countries, it adds.
BBC Monitoring reports and analyses news from TV, radio, web and print media around the world. For more reports from BBC Monitoring, click here. You can follow BBC Monitoring on Twitter and Facebook.