Indian nurses trapped in Libya want to return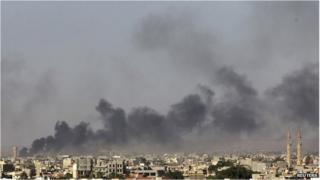 A group of 65 Indian nurses trapped in the fighting engulfing parts of Libya want to return home, officials say.
The nurses are stranded in the capital, Tripoli, where a week of fighting has left 97 people dead and 404 injured.
More than 1,000 Indians work in Tripoli and Benghazi, where troops loyal to the Libyan government and Islamist fighters have clashed.
Earlier this month, 46 Indian nurses trapped in fighting in parts of Iraq returned home after being freed.
Many of the nurses trapped in Libya are from the southern Indian state of Kerala.
P Sudeep, a senior official of Kerala's Non-Resident Keralites' Affairs department, told the BBC Hindi's Imran Qureshi that 120 nurses "and other [Indian] workers" from Libya had called their department, and sought to return home.
"Of these, 65 nurses have said they want to return immediately."
Kerala Chief Minister Oomen Chandy said he had spoken to the federal Foreign Minister Sushma Swaraj and "requested her to [arrange the] evacuation of all those who want to return".
"The main problem is the Tripoli airport is closed. The closest airport, Mitiga, is 15km (9.3 miles) away. Our request is to send a special flight to Mitiga airport and get all Indians back,'' Mr Chandy said.
Mr Chandy said more than 350 Indian nurses and other staff were working at a medical centre in Tripoli.
In 2011, the Indian government carried out a "mammoth operation" involving planes and ships to evacuate thousands of nationals from conflict-hit Libya.
Militias controlling large parts of the country are behind Libya's worst violence since the 2011 uprising that toppled Col Muammar Gaddafi.
On Sunday, France and Germany joined the US and UK in advising their nationals in Libya to leave immediately.
On Saturday, the US evacuated its embassy in Tripoli, citing a "real risk" because of the fighting. Earlier this week, the UN also announced it was withdrawing all its staff from Libya.