Media say Kerry visit to 'reboot India-US ties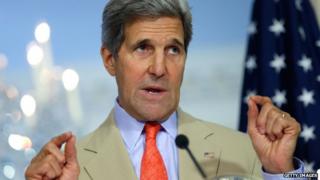 US Secretary of State John Kerry's India visit is aimed at "building bridges" between Delhi and Washington, papers say.
Relations between India and the US have been rocky in recent months.
It is Mr Kerry's first visit to Delhi since a row between the two countries over the arrest and brief jailing of an Indian diplomat in New York.
Devyani Khobragade, an official in the New York consulate, was arrested in December on a visa fraud charge after she was accused of underpaying her housekeeper and lying about it on immigration forms. She later left the US.
The visit is "aimed at building bridges with the new Indian government led by a man Washington abhorred for nearly a decade before his resounding electoral victory changed American policy," reports The Times of India.
Mr Modi was denied a US visa for many years over allegations that he did not do enough to stop the 2002 anti-Muslim riots in the western state of Gujarat while he was the chief minister.
He has never been charged and has always denied any wrongdoing.
Papers say Mr Kerry has given a "positive statement" before the start of his Delhi visit.
"This is a potentially transformative moment and we are determined to deliver on opportunities we can create together," Mr Kerry said ahead of his visit to India.
Mr Kerry's message "reflects a perceptible change in Washington's attitude towards India-US ties, which had hit a rough patch in recent years. It's clear that the Obama administration now wants to turn the page on the phase of resentment that had marked bilateral relations," The Times of India says in another report.
Echoing similar sentiments, the Hindustan Times says that "there is a discernible sense of dissatisfaction about bilateral ties. This has to do with the bumps that have emerged recently, which Mr Kerry and the Indian political leadership need to get past"
'Sparkling show'
Meanwhile, the chief minister of southern Kerala state, Oommen Chandy, has urged the federal government to make provisions for airlifting Indian nurses stranded in the Libyan capital of Tripoli, the NDTV website reports
Libya has been gripped by instability since the 2011 uprising, with swathes of the country controlled by militias.
At least 97 people have been killed in fighting between rival militias battling for control of Tripoli's main airport in the past week.
In his letter to External Affairs Minister Sushma Swaraj, Mr Chandy "demanded that provisions for airlifting those stranded should be made from the only functional international airport in Libya, or they should be evacuated from neighbouring Tunisia," the website adds.
Many of the nurses trapped in Libya are from Kerala state.
And finally, newspapers and websites are praising "India's sparkling show on the mat" as the country bagged three gold medals in wrestling at the Commonwealth Games on Tuesday.
Sushil Kumar and Amit Kumar won gold medals in men's wrestling, while Vinesh Phogat finished on top of the podium in women's event.
"CWG 2014: Gold rush as India conquer wrestling ring, shooting arena" reads a headline on the First Post website.
BBC Monitoring reports and analyses news from TV, radio, web and print media around the world. For more reports from BBC Monitoring, click here. You can follow BBC Monitoring on Twitter and Facebook.