Is Indian PM Narendra Modi's 'foster son' a public relations triumph?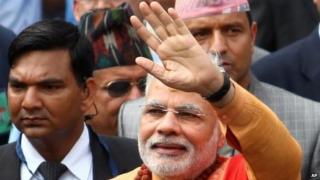 It all began with a series of tweets by Narendra Modi on the eve of his recent official trip to Nepal, the first by an Indian premier in 17 years.
Next day Indian foreign ministry spokesman Syed Akbaruddin tweeted a picture of a beaming young man with his family and Mr Modi, saying: "Thanks to @narendramodi, a happy reunion for Jeet Bahadur and family."
Then the headlines began pouring in.
Modi reveals his Nepalese foster son, said one. Another report called him his godson. Still others called him Mr Modi's "secret foster son".
Jeet Bahadur says he arrived in India with his elder brother in search of work, aged 11 in 1998. Apparently, they got separated and he mistakenly boarded a train for Ahmedabad, Gujarat's main city, where Mr Modi was a politician.
"I will not disclose how I met Mr Modi. But he has looked after me for all these years," he says. Reports say Mr Modi also paid for his education in a local school.
Mr Modi's personal life has often been under scrutiny, with critics accusing him of deserting his wife Jashodaben. In the run-up to this year's general election, for the first time he publicly admitted that he had married at the age of 17 but that they had barely lived together.
To be fair, Mr Modi has never claimed that Jeet Bahadur was his foster son, and it seems to be fairly clear that the media have got this detail wrong.
Then, intrepid reporters dug up this picture from Jeet Bahadur's Facebook account showing him with his family in his native village in Nepal in 2012.
So how was India's government claiming that Mr Modi helped reunite Jeet Bahadur with his family? A leading news website accused Mr Modi of "misleading Nepal". The diplomatic editor of The Hindu newspaper, Suhasini Haidar, aptly summed up the confusion in a tweet saying she found the accounts puzzling.
Jeet Bahadur, who describes Mr Modi as his "elder brother", has admitted in an interview with BBC Hindi's Ankur Jain that he has met his family in Nawalparasi district several times since 2012, when his family was tracked down with a help of a Nepal-based businessman.
"But Mr Modi met my family for the first time over the weekend. He wanted to personally hand me over to my family," he told the BBC. It is not clear what he meant by "handing him" over since Jeet Bahadur, who is now 27, plans to return to India and complete his studies.
In the end, most believe that Mr Modi's meeting with his family in Nepal and "handing" their boy over was a public relations masterstroke. Kathmandu-based commentator Yubaraj Ghimire put it succinctly: "Mr Modi's decision to bring Jeet Bahadur along, get his entire family to Kathmandu, pose with them for a photo-op and give them gifts, generated such publicity that this affair appears to have paid him the biggest dividend of his Nepal visit."