Word cloud: Modi stresses on governance, growth, toilets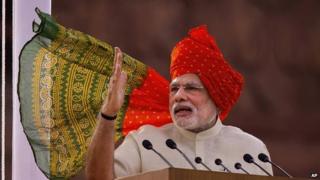 Indian Prime Minister Narendra Modi's Independence Day speech on Friday stressed growth, economic revival, women's security and manufacturing.
Mr Modi, who was giving his first Independence Day speech as prime minister, stressed India more than any other word in his extempore address.
A word cloud analysis of Mr Modi's speech shows that he was keen to stamp his ideas on governance and the country's future.
He mentioned "village" a few times and emphasised the development of rural India.
The PM also stressed the importance of toilets in every home and also talked about the "shameful cases of rapes" in India.
The word cloud reflects that Mr Modi covered important areas like security, women's safety, growth, economy, foreign relations and communal harmony.
BBC Monitoring reports and analyses news from TV, radio, web and print media around the world. For more reports from BBC Monitoring, click here. You can follow BBC Monitoring on Twitter and Facebook.