Media say India on road to redemption after ODI win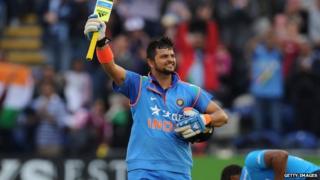 Media and pundits feel India have taken the first step on their road to redemption with a comfortable win over England in the second one-day international.
Suresh Raina's impressive century helped India defeat the hosts by 133 runs in Cardiff.
The thumping win is likely to help India overcome their crushing 3-1 defeat in the Test series.
The tourists have now taken a 1-0 lead in the five-match ODI series. The first match in Bristol was washed out due to bad weather.
Cricketnext.com says India have returned "to winning ways after their 3-1 defeat by England in the preceding Test series".
Papers are full of praise for Raina, who anchored India's innings and helped his side set up a challenging total of 304.
"That Suresh Raina infused much-needed experience in India's middle order came as no surprise, but his innings also picked up those batting around him," writes gocricket.com.
Some feel India's win in the ODI series will help them prepare for their World Cup title defence in Australia and New Zealand next year.
"India played the right cards in their first win this year outside the subcontinent. This would largely be the blueprint of India's squad make-up in Australia and New Zealand, but they will benefit from this victory," the website adds.
But The Indian Express seems to truly believe that cricket is a game of uncertainties!
"A word of caution here: The last time MS Dhoni & Co led a five-match series after game two, they went on to lose it 3-1," an article in the paper says.
Criminal politicians
Moving on to political news, papers are welcoming the Supreme Court's observation that politicians with criminal records should not be appointed as ministers.
On Wednesday, the court said it could not "pass directions for disqualification of ministers facing criminal and corruption charges".
Instead, the top court said the prime minister and chief ministers of states should "not include people with criminal antecedents in their cabinet," according to the Press Trust of India news agency.
"While in legal and constitutional terms, it may have lobbed the ministerial ball into the hands of elected heads of government, the apex court made a strong moral argument… The pressure will now be on PM Narendra Modi to act," says The Times of India.
And finally, Bollywood star Shah Rukh Khan has become the ambassador for Interpol's "Turn Back Crime" campaign to promote awareness on crime prevention, the NDTV website reports.
"It's a very special honour to be a part of Interpol's Turn Back Crime campaign as an ambassador," the website quotes the actor as saying.
Khan, the first Indian to be made an ambassador for the global campaign, "is lending his voice to help spread the message that all of society benefits when citizens respect law and fight crime", the report adds.
BBC Monitoring reports and analyses news from TV, radio, web and print media around the world. For more reports from BBC Monitoring, click here. You can follow BBC Monitoring on Twitter and Facebook.