'Looking for Dad in flooded Kashmir'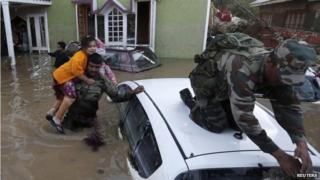 As the Jhelum river breached its banks engulfing Srinagar, the main city of Indian-administered Kashmir, and all communication lines went down, London-based Saba Mahjoor tried desperately to get in touch with her father.
Abdal Mahjoor lives in Rajbagh area, badly affected by the floods described as the worst to hit Indian-administered Kashmir in more than half-a-century.
His daughter was unable to get through to him on the phone, and the news coming out of Srinagar was worrying.
"I briefly spoke to a friend who was rescued from Rajbagh on Saturday and she said she had seen lots of bodies floating in the water there. I was imagining the worst," she said.
Then she posted a message on the social networking site Facebook which had become the go-to place for distressed relatives desperate for any information on their loved ones.
"This is my dad, Abdal Mahjoor - if anyone has any information about him please let me know," she wrote on Tuesday on Kashmir Flood Information Channel, one of the groups that have been set up in the past few days to share information and request rescues and coordinate relief.
Her cry for help received sympathetic responses from people known and unknown, and finally one message from a relative brought her the good news that he was safe.
"He was rescued on Tuesday night," she told the BBC on the phone from London.
'Stuck in the attic'
"Last Friday afternoon, the authorities issued a warning to people in Rajbagh to evacuate. My mother was in Delhi, so my father went to stay with his sister who lives in the nearby Jawahar Nagar area," Ms Mahjoor said.
Her father had planned to return home in the morning, but the water levels began to rise at night. "The water came rushing into their home. It rose to 15 feet in two hours."
Just after midnight, the first floor was under water. By Saturday morning, three storeys had been submerged and Mr Mahjoor was stuck in the attic with his sister and her family, including an infant.
"They were seven people, stuck there for four days. They had taken some supplies with them, water and some rice and lentils, and they rationed it, eating once a day to make it last longer.
"On Tuesday night, they saw a man passing by in a boat and shouted for help. The man, out of the kindness of his heart, rescued my father and his sister's family on his boat," Ms Mahjoor said. "By the time of their rescue, they had nothing left to eat and just one litre of water."
The boatman dropped the family with a relative. Ms Mahjoor first received confirmation that her father was safe when her aunt's Delhi-based daughter-in-law commented on her Facebook post.
"She had managed to have a brief conversation with her mother-in-law on Tuesday night after their rescue. My aunt said they were all going to the Watrad village in Budgam district which is on higher ground."
But Ms Mahjoor's relief once again turned to anxiety as she couldn't get hold of her father for the next 24 hours.
"My father is a diabetic, and is on lots of medication. I was worried if he had his medicines with him. He is 65, but he's had several surgeries in the past and is very frail, he's not physically strong.
"We had heard the roads were extensively damaged so we had no idea whether he had actually reached the village or whether he was stranded somewhere.
"I know everyone there was in the same boat but I was very very concerned about him."
Ms Mahjoor is now happy that her father is safe: "I finally managed to speak to him on Thursday evening, he is staying with relatives in the village in Budgam."
But she is worried about thousands of others still trapped in Srinagar and elsewhere in the Kashmir Valley.
"People are being rescued, but it's a drop in the ocean. We hear that a lot of people are still stuck there."