India teenager killed for refusing to buy cigarettes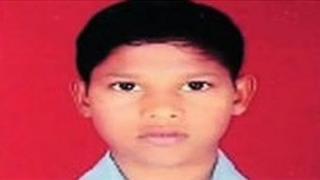 Police in India say they are looking for four men who killed a teenager for refusing to buy them a pack of cigarettes.
Ranjan, a 16-year old student, was on his way back home from tuition on Wednesday evening when he was stopped by the group of men who were drunk.
They attacked the teenager when he said the shop would not sell him tobacco because he was underage.
The incident took place in the Bharat Nagar area of the capital, Delhi.
"We have identified the assailants. They are the neighbours of the victim. They are unemployed and spend their time drinking and playing cards near the local park. They were drunk when they attacked the teenager," a police official told BBC Hindi.
Ranjan was beaten up and stabbed with a knife, the official said, adding that the victim lay bleeding near the park until some passers-by spotted him and called the police.
He was taken to a local hospital but later died from his injuries, the official said.