Indian media praise Modi's 'rocking speech' in New York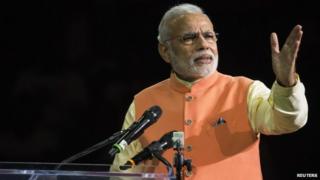 Indian papers are praising Prime Minister Narendra Modi's "rocking" address to Indian-Americans at New York's Madison Square Garden on Sunday.
"Madison Square goes mad over Modi", "Modi holds America in thrall" and "Modi is new rock star of politics" are just some of the leading headlines in Monday's papers.
Most of India's TV channels aired his speech live on Sunday night and followed it up with studio discussions.
Mr Modi's hour-long speech about his vision for India received thunderous applause from an eager audience, reports said.
The NDTV website says Mr Modi "got a full-house reception… [at] a venue that rock stars dream of packing with a sell-out audience".
The Times of India reports that "Prime Minister Narendra Modi and overseas Indians indulged in a mutual love-fest that sharply etched the country's growing power and profile in the minds of Americans".
"Regardless of one's political leanings or affiliations, it was a matchless, unprecedented show that bespoke the power and reach of the Indian diaspora," the report adds.
The Tribune says that "at the end of the event, it was apparent that Mr Modi was well on his way of becoming the new rockstar among world politicians. Few Indian leaders have mastered the art of showmanship as Mr Modi has done".
The paper, however, points out that the crowd at the venue did not represent the whole of India.
"True, the audience was partisan. A sizeable number were Gujarati expats, who had come to fete Narendra 'Bhai' Modi as they call him," says the paper.
An article in the First Post website says "the audience was eating out of his hands. But what was interesting was how little the PM asked of them in return".
"The Madison Square Garden event could have been a wake-up call for NRIs [Non-Resident Indians] to get beyond that Mr I-Want image. But it remained a stage show reminiscent of every tacky NRI community function in some school gymnasium just blown up to Madison Square Garden-size," it says.
Journalist 'attacked'
Meanwhile, senior TV anchor Rajdeep Sardesai was "roughed up" outside Madison Square Garden on Sunday, The Indian Express reports.
A video showing the senior journalist being manhandled has gone viral on the internet, and shows him being heckled and pushed by some men.
Mr Sardesai later tweeted: "Great crowd at Modison Square Garden! Except a few idiots who still believe abuse is a way of proving their machismo!"
And finally, forest officials in Srikakulam district in the southern state of Andhra Pradesh have arrested three people for killing a panther and eating its meat, a report in The Times of India says.
Residents of the village of Koviri had put up an illegal electric fence to capture the big cat, the report says.
"Investigation is on. More people will be picked up once the investigation is over," the paper quotes a local official as saying.
BBC Monitoring reports and analyses news from TV, radio, web and print media around the world. For more reports from BBC Monitoring, click here. You can follow BBC Monitoring on Twitter and Facebook.