Indian media praise Modi's investment pitch to US firms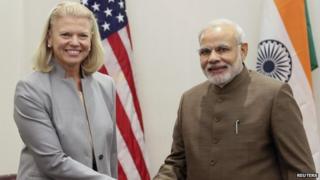 Papers are praising Prime Minister Narendra Modi's efforts to sell India as an investment destination to US companies.
Mr Modi, who is on a five-day visit to the US, met the CEOs of top companies in New York on Monday.
During the breakfast meeting, he assured the business leaders that he would develop a business-friendly atmosphere in India.
Heavy taxes, red tape and frequent changes in government policies have made India infamous in the global business community, observers say.
Mr Modi's government, which came to power earlier this year, has promised to get rid of laws that act as hurdles in starting businesses in India.
"While hearing out the concerns expressed by business leaders, Mr Modi assured them that his government would address the problems and try to make the overall environment more business-friendly," The Times of India reports.
Eleven CEOs - including heads of Google, Citigroup, PepsiCo and General Electric (GE) - attended the meeting and seemed positive about Mr Modi's promises, reports said.
"My interaction with him was outstanding. I am certainly looking forward to further investments in India as the climate for investments has switched to positive once again," The Indian Express quotes Jeffrey R Immelt, chairman and CEO of General Electric, as saying.
Some experts say an increase in US investment in India will help revive ties between the two countries.
"If Mr Modi promises improved policies, simplified procedures, quicker decision-making, the goods and services tax by April 2016 and the demographic and demand dividends that India offers are not enough to revive US interest in India, then what is?" former Indian diplomat Kanwal Sibal asks in the Hindustan Times.
Different stakes
Meanwhile, columnist Praveen Swami argues India "should not bank overly on a partnership with the US".
"Even as Mr Modi seeks to breathe life into the long-stalled strategic partnership with the US, there might not be one to be had," Mr Swami writes in The Indian Express.
India must evaluate the possible outcomes of a strategic partnership with the US, he suggests.
"It's worth considering, though, that while Indian and US interests converge, their stakes - and what they need to do to secure them - are quite different," he adds.
And finally, the Indian prime minister met his Israeli counterpart Benjamin Netanyahu on Sunday, the Hindustan Times reports.
"Between discussions on issues ranging from Iran and IS [Islamic State] to West Asia, Israel invited India to be part of its national cyber defence authority, a dedicated force to fight cyber threats and a pet project of Mr Netanyahu," the paper reports.
The Hindu says the meeting "takes significance given it came before Mr Modi's dinner meeting with US President Barack Obama in Washington, as well as Mr Modi's address to the council for foreign relations to outline his government's foreign policy objectives".
BBC Monitoring reports and analyses news from TV, radio, web and print media around the world. For more reports from BBC Monitoring, click here. You can follow BBC Monitoring on Twitter and Facebook.