India's Flipkart apologises for sale glitches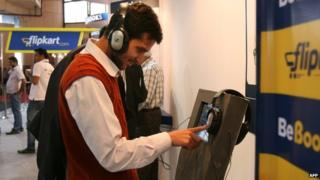 India's biggest online retailer Flipkart has apologised for glitches during Monday's "Big Billion Day" sale.
In an email sent to customers on Tuesday, Flipkart's founders said they were "really and truly sorry" for not "living up to the promises we made".
The company had announced a day of mega sales, offering massive discounts.
But the big rush of customers online crashed its servers and within minutes most of the products appeared as "out of stock".
Angry customers complained that supposedly discounted items on Flipkart were actually being sold at prices higher than other websites and that some items were marked up before the sale and then offered at discounts.
"Everything that we have achieved at Flipkart is purely on the basis of our customer's trust and faith," founders Sachin Bansal and Binny Bansal said in the email.
"We failed to live up to this promise... and would like to apologise once again to every single customer for our failure."
Despite all the negative publicity, Flipkart said "an unprecedented 1.5 million people shopped" at their site on Monday and that they achieved "sales of $100m (6bn rupees; £60m)".
The company said it had prepared for months for the sale, but added that "we were not adequately prepared for the sheer scale of the event".
Correspondents say India's online retail market is highly competitive with rivals like Snapdeal and Amazon rapidly increasing their market share.