Indian PM Narendra Modi 'to expand cabinet'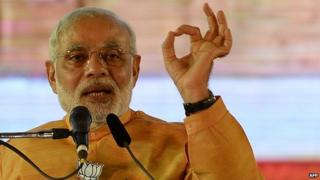 Indian PM Narendra Modi is set to expand his cabinet over the weekend, five months after he led his BJP party to a landslide win, media say.
Forty-five MPs, including seven women, from Mr Modi's party and their allies were sworn in as ministers in May.
More than six ministers are holding more than one portfolio, including Arun Jaitely, who is charge of both the key ministries of finance and defence.
Media reports say Mr Modi may include as many as 10 new ministers.
The reports say that the chief minister of the BJP-ruled state of Goa, Manohar Parrikar, could be chosen as the new defence minister.
The speculation was triggered after Mr Parrikar cancelled a meeting with his ministers in Goa and travelled to Delhi to meet Mr Modi on Wednesday.
However, after meeting the prime minister, Mr Parrikar said he had discussed "issues of Goa", and that he continue as the chief minister.
Among other MPs who are likely to be inducted as new ministers are Jayant Sinha, Mukhtar Abbas Naqvi and Anurag Thakur, reports say.
Earlier this year, the BJP won the biggest victory by any party in India for 30 years, gaining a majority in parliament and trouncing the outgoing Congress Party.