Indian media: Privatisation of loss-making public sector firms welcome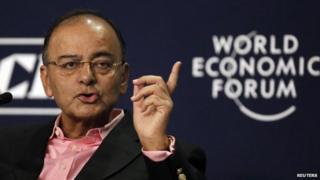 Papers largely welcome the government's plan to privatise some loss-making public sector firms.
Finance Minister Arun Jaitley on Wednesday said that he was considering the privatisation of some public sector units (PSUs) running on losses.
"Certainly I would be interested to look at some PSUs (which) could do much better in private hands...Taxpayers cannot continue to pay for loss-making businesses," Mr Jaitley said at the India Economic Summit of the World Economic Forum in Delhi.
The Times of India backs the plan, saying such losses are essentially a waste of taxpayer's money.
The paper highlights the case of loss-making Air India in the country's competitive aviation market.
"Every rupee of tax collected from poor Indians and utilised to offset Air India's losses, for instance, is one rupee less on education or healthcare," the paper says.
It feels that government-run companies often run the risk of prioritising commercial interests over social welfare.
"Inevitably, government policy is adversely affected by PSU commercial interests. Society's interests, for instance, do not match with those of an individual company such as Coal India," the paper adds.
The Asian Age, meanwhile, suggests that the government should go ahead with its plans, but also urges caution.
"One does not know how serious the government is about privatising them, and which PSUs it has identified for sale," it says.
The paper also expressed the worry that there would not be "many takers for these PSUs together with their assets and liabilities".
Some of the government companies, such as the telecom firms MTNL and BSNL, "can be brought back to health by honest, efficient people at the helm of affairs", it adds.
The Pioneer, meanwhile, says that Mr Jaitley's remarks on privatisation of PSUs may also be indicative of more economic reforms in the future.
The paper says that Mr Jaitley's comments "assume greater significance" when viewed with Prime Minister Narendra Modi's statement on next year's budget.
Mr Modi has called for a "transformational" budget that "would be full of new ideas", the paper reports.
Gandhian fast
Meanwhile, several regional political parties have come together to fight the increasing popularity of the ruling Bharatiya Janata Party (BJP).
Leaders from these parties met on Thursday and discussed the possibility of forming one united party.
"We resolved today to work together and in the near future. There is a strong possibility we might merge and form one party," The Hindu quotes former Bihar Chief Minister and Janata Dal (United) leader Nitish Kumar as saying.
And finally, popular columnist and economist Lord Meghnad Desai plans to hold a fast to raise funds for Mahatma Gandhi's statue in London.
Lord Desai hopes to raise £1 million for the Indian freedom fighter's statue in the Parliament Square.
"Gandhiji went on a fast for so many good causes so it seems quite appropriate that I also go on hunger-strike to raise awareness for this good cause," the Zee news website quotes Lord Desai as saying.
Earlier this week, Westminster City Council granted permission to install Gandhi's statue in the square which also houses statues of former British PM Winston Churchill and South Africa's anti-apartheid leader Nelson Mandela.
BBC Monitoring reports and analyses news from TV, radio, web and print media around the world. For more reports from BBC Monitoring, click here. You can follow BBC Monitoring on Twitter and Facebook.