Indian PM Narendra Modi expands cabinet with 21 new ministers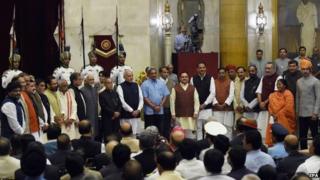 Indian Prime Minister Narendra Modi has expanded his cabinet and reshuffled several ministers, five months after he led his BJP party to a landslide win.
Twenty-one new ministers were sworn in on Sunday at the presidential palace in the capital, Delhi.
The most crucial appointment is Manohar Parrikar, who quit as Goa chief minister, as the new defence minister.
Other new ministers are Olympic shooter Rajyavardhan Rathore, former plumber Vijay Sampla and singer Babul Supriyo.
The new appointments take the total strength of the council of ministers to 66.
In May, Mr Modi appointed a 45-member ministry, promising that he would head a lean government. But in recent months there has been criticism that many ministers were overburdened, slowing the economic reform agenda.
More than six ministers were given more than one portfolio, including Arun Jaitley, who held the key ministries of finance and defence.
Mr Parrikar's appointment frees Arun Jaitley to concentrate on finance. Mr Jaitley has not been in good health recently - he was admitted to hospital for several weeks in August and September.
Earlier this year, the BJP won the biggest victory by any party in India for 30 years, gaining a majority in parliament and trouncing the outgoing Congress Party.
---
The new ministers
Manohar Parrikar: The new defence minister is known for his integrity and spartan lifestyle. The 58-year-old widower, who until a few days ago was the chief minister of Goa, lives with one of his sons in a two-bedroom apartment. An engineer, he often travels by rickshaw and carries his own bags.
Suresh Prabhu: The railway minister is a former member of the Shiv Sena party. Hours before his swearing-in, he quit on Sunday morning and joined the BJP. Mr Prabhu, an accountant, had served as a minister from 1998 to 2004 in the former BJP government, headed by then prime minister Atal Behari Vajpayee.
Babul Supriyo: The Minister of State for Urban Development, Housing and Urban Poverty Alleviation is a Bollywood singer from Calcutta. A former banker, the 43-year-old is the youngest minister in the Modi government.
Rajyavardhan Rathore: The junior minister for Information and Broadcasting won a silver metal for the Double Trap shooting event at the Athens Olympics. The Indian government honoured him with the Padma Shri civilian award in 2005.
Vijay Sampla: The Minister of State for Social Justice and Empowerment has had a dramatic rise to power. The MP from Hoshiarpur in Punjab worked as a plumber in the Gulf not too long ago before setting up a business back home in India.
---