Indian PM Narendra Modi begins trip to Myanmar, Australia and Fiji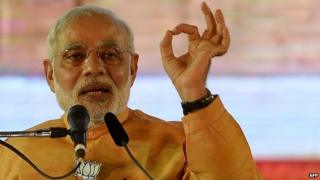 Indian Prime Minister Narendra Modi has set off on a tour which will take in summits and key bilateral talks in Myanmar, Australia and Fiji.
In his first stop in Myanmar (also known as Burma), he will attend the Asean and East Asia Summit.
He will then visit Australia - the first by an Indian PM in 28 years - to attend the G20 summit, before going on to Fiji.
Mr Modi led his BJP party to a massive win in the summer's general election.
The prime minister will begin his tour in Myanmar's capital Naypyidaw, where he will attend the Asean-India summit and the East Asia Summit on Wednesday and Thursday.
He is expected to meet President Thein Sein as well as opposition leader Aung San Suu Kyi, officials said.
From there, he will go to Brisbane to participate in the G20 summit and then travel to Sydney, Canberra and Melbourne on a bilateral visit from 16 to 18 November.
The highlight of his Australia visit is due to be his address to the joint sitting of the parliament in Canberra and his address to the Indian community at a reception at Sydney's Olympic park, which is expected to be attended by more than 15,000 people.
In a pre-departure statement, Mr Modi said he would raise the issue of international co-operation on illegal money and take up the creation of digital infrastructure and access to clean energy.