Indian media: Modi's Asean trade pitch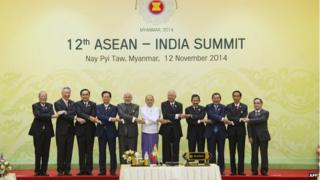 Indian papers have been highlighting Prime Minister Narendra Modi's trade pitch to Southeast Asian countries.
Mr Modi on Wednesday invited the Asean (Association of South East Nations) nations to join India in its "new era" of economic progress.
He was addressing the India-Asean summit on the sidelines of the Asean summit in Myanmar (also known as Burma).
Mr Modi has been pushing his "Make in India" campaign, which aims to turn the country into a global manufacturing hub, during foreign visits.
It includes plans to cut red tape, develop infrastructure and make it easier for companies to do business.
Mr Modi said India's "Look East" has now turned into "Act East Policy", suggesting that he will implement long-delayed plans to boost trade and deepen ties with East Asian countries.
"A new era of economic development, industrialisation and trade has begun in India. Externally, India's 'Look East Policy' has become 'Act East Policy'," The Hindu quotes Mr Modi as saying.
The PM's remarks highlight the "untapped potential" in trade between India and the Asean, reports say.
"Presently, India-Asean trade is around $76bn, catering to a combined market of 1.8 billion people. However, India's trade with Asean is just 3% of total Asean trade with officials saying there is immense untapped potential," the First Post website says.
India and the Asean plan to increase their bilateral trade to $100bn by 2015, the website adds.
The Indian prime minister's call for increase in trade and the "Make in India" campaign found positive responses at the summit, reports say.
Thai Prime Minister Gen Prayuth Chan-ocha offered support to Mr Modi's campaign during their bilateral meeting on the sidelines of the summit.
"Mr Modi's strong 'Make in India' pitch today got the full support of his Thai counterpart Gen Prayut Chan-o-cha who said this concept can also be applied to drive the economy of his country," the NDTV website reports.
Mr Modi, meanwhile, also met Myanmar's pro-democracy and opposition leader Aung Suan Suu Kyi, The Hindu reports.
Mr Modi is on a three-nation Asia-Pacific tour. After Myanmar he will head to Australia on Friday to attend the G20 summit. The last leg of his trip will take him to Fiji.
New government
In some domestic news, the Bharatiya Janata Party (BJP) proved its majority in Maharashtra state assembly with the support of a regional party on Wednesday, reports say.
The BJP proved its majority "through a simple 'Aye'" from supporting legislators amid shouts of opposition politicians in the assembly, the Hindustan Times reports.
The Times of India says the "voice vote has only added to the air of mystery and ambiguity surrounding the Maharashtra government and the exact nature of support extended by the NCP (National Congress Party)".
The BJP has formed the government with the support of the NCP.
The Hindu nationalist party won 121 seats in the recently-held polls, but needed support to form a government.
Moving on to some business news, India's industrial production picked up for the month of October, and retail inflation has also shown signs of cooling, according to latest government data.
Factory output grew 2.5% year on year in September, marking its fastest growth in three months.
Retail inflations also slowed to 5.52% in October, after staying above 6% for months. Papers feel the number may force India's central bank, the Reserve Bank of India, to cut interest rates.
"With retail inflation easing for the third consecutive month, coupled with still-subdued manufacturing growth, the clamour for a rate cut by the central bank in its upcoming monetary policy review on 2 December is likely to intensify," says financial website Mint.
And finally, Bollywood movie director Ravi Chopra died in Mumbai on Wednesday at the age of 68, The Indian Express reports.
He was reportedly battling lung cancer. The director made famous films like Baghban, Bhoothnath, and epic TV series Mahabharata.
BBC Monitoring reports and analyses news from TV, radio, web and print media around the world. For more reports from BBC Monitoring, click here. You can follow BBC Monitoring on Twitter and Facebook.