Indian media: Obama visit to improve ties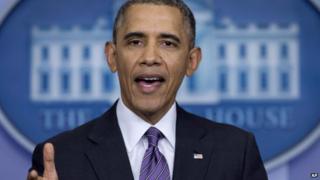 Papers praise India's decision to invite US President Barack Obama to attend the Republic Day celebrations on 26 January.
Mr Obama on Friday accepted PM Narendra Modi's invitation to be the chief guest at the event in Delhi.
Ties between the two countries have been strained in recent months over disputes about a global trade deal and the arrest of an Indian diplomat in the US last year.
But Mr Modi's bilateral meetings with Mr Obama during his visit to the US in September while there to attend the UN General Assembly have improved relations.
Papers say the visit is likely to further improve Delhi's relations with Washington.
"The invitation signals that the India-US relationship is now stepping out of the shadows on all aspects of bilateral relations: economic, political and military," says The Hindu in an editorial.
"For the past few months, Mr Modi's travels and public speeches have indicated a primacy to the United States that previous governments had stopped shy of giving," the paper adds.
The Times of India also feels that India needs the US for its economic growth and security.
"It [the US] provides India access to high technology, capital and an enormous market for its goods and services. The many convergent interests between India and the US include co-operation on terror, which threatens both nations," it says.
The Pioneer feels the two leaders share good relations and that is likely to have an impact on bilateral ties.
"Mr Modi's invitation to Mr Obama... and the latter's enthusiastic acceptance, reflects positively on the personal equation that the two leaders have come to share in a short period of time, and signals significant improvement in bilateral ties," it said.
Australian Test
Moving on to other stories, the Vatican anointed two Indians from the southern state of Kerala as saints on Sunday.
"At a special mass at St Peter's Square at Vatican, Pope Francis declared Fr Kuriakose Elias Chavara and Sister Euphrasia Eluventhinkal as saints, worthy of worship at altars in all Catholic and sister churches across the world," The Times of India reports.
Both Chavara and Eluventhinkal are from the Syro-Malabar Church, the paper adds.
And finally, cricketer Virat Kohli has said the Indian team can handle the pace of Australian fast bowler Mitchell Johnson in an upcoming Test series.
"We are equipped enough to tackle him on these pacy and bouncy wickets. I don't see any good reason why we can't come up and put up a good fight," the NDTV website quotes Kohli as saying.
Kohli will lead the team in the first Test against Australia on 4 December in the absence of injured captain Mahendra Singh Dhoni.
BBC Monitoring reports and analyses news from TV, radio, web and print media around the world. . You can follow BBC Monitoring on Twitter and Facebook.