Indian media: Cricket safety concerns after Hughes's death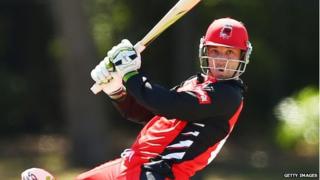 Papers in India are discussing safety concerns in cricket following Australian Test player Phillip Hughes's death.
The 25-year-old New South Wales left-hander succumbed to injury on Thursday after he was hit on the top of the neck by a short delivery from Sean Abbott on Monday while batting for South Australia in a Sheffield Shield match.
The Times of India feels Hughes' death is a "wake up call" and cricket authorities should impose an immediate ban on bouncers.
"Bouncers should be outlawed immediately in cricket. They should have been banned long ago, and bowlers should not even have been allowed a maximum of two per over, but it's still not too late," The Times of India says.
The paper adds that bouncers, which are often used to "intimidate" batsmen, come with a huge risk.
"Bouncers are purely intimidatory stuff, and intimidation has no role in cricket because this sport, unlike some others, was never meant to be a gladiatorial contest," the paper adds.
The paper concludes saying that cricket may be a "game to live for…but it's certainly not worth dying for".
The Indian Express, on the contrary, feels that Hughes' death was a "freak accident" and there is no cause for "alarm".
"The concerns are understandable but it must be recognised that it was a freak accident that caused the young Australian cricketer's death. Even as they mourn, fans must know that there is no cause for panic or alarm," the paper says.
The paper, moreover, argues that the game has become safer with pitches that offer lesser bounce compared to yesteryears.
"In fact, over the years, cricket has become a less physically intimidating game. Uncovered cricket pitches with uneven bounce and pace are now a thing of the past. Most of them have slowed to become belters," the paper adds.
The Hindu feels that Hughes' death makes everything related to the game insignificant.
"It's too early to estimate the effect of the incident on cricket's future. For the present, in the immediate aftermath, everything else pales into insignificance," the paper says.
The paper, however, says the incident has made players and followers of the game "more keenly aware of the very real danger the cricket ball represents".
Handshake
Meanwhile, Indian and Pakistani prime ministers finally shook hands as the regional Saarc (South Asian Association for Regional Cooperation) summit which concluded on Thursday, the Hindustan Times reports.
"Will they or won't they? It was like a gripping thriller. As Saarc concluded, leaders on the stage walked up to bid each other farewell…Mr Sharif took a few steps to his right and Mr Modi, almost simultaneously with studied casualness, moved a bit left. And there it was," the paper reports.
Mr Sharif's presence at Mr Modi's oath-taking ceremony in May had revived hopes of the resumption of peace talks between the neighbours.
However, the ties suffered a setback in August when Delhi cancelled scheduled foreign secretary-level talks after Pakistan's envoy to India, Abdul Basit, met a Kashmiri separatist leader.
And finally, nine soldiers have been indicted for the killing of two civilians in Indian-administered Kashmir, the First Post website reports.
Indian army soldiers had fired at a private car on 3 November in Budgam area killing two passengers.
The panel probing into the incident found "gross violation of rules" by the soldiers, the website reports.
The killing had led to protests in parts of Indian-administered Kashmir.
BBC Monitoring reports and analyses news from TV, radio, web and print media around the world. You can follow BBC Monitoring on Twitter and Facebook.