Indian woman accuses family of forcing her into sex trade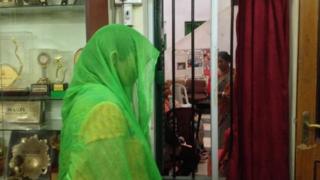 Police in the Indian city of Calcutta are investigating allegations by a woman that she was abandoned by her in-laws after she resisted their attempts to force her into the sex trade.
The 30-year-old mother of three boys has been rescued by a city-based organisation of sex workers.
She alleges her in-laws were unhappy that she had produced no daughters who could eventually work in the sex trade.
Calcutta is home to one of Asia's largest red-light districts, Sonagachi.
More than 10,000 prostitutes, many from northern and central India, live and work in this crowded and congested neighbourhood in the city centre.
Police said they had visited the house of the woman's in-laws after receiving her complaint, but found no one there.
The woman told the BBC that it was a "norm" in her in-laws' family for the women to work as sex workers.
"My in-laws used to tell me regularly that had I given birth to a girl child, she could have been a sex worker. When I gave birth to three boys, they started telling me these boys are of no use to the family and that I should start working as a sex worker to earn my living," she said.
The "torture" increased after the birth of her third son 13 months ago and a member of her in-laws family dumped her in Sonagachi on Friday night, she said.
Durbar, a group of sex workers based in Sonagachi, said some sex workers and brothel owners from the northern state of Uttar Pradesh, where the woman's in-laws come from, had a tradition of engaging their women in the sex trade.
The woman said during her marriage negotiations, the groom's family had told her that he owned a mobile phone repair shop in Calcutta.
She added that her husband worked in Mumbai, and that she was not sure what he did for a living.
"But I soon found out that my mother-in-law was a sex worker here and sister-in-law is still in this profession. Three other girls of the family are into sex-trade and based in Mumbai," she added.
In India, boys have traditionally been favoured over girls. Routine abortions of female foetuses have led to a gender imbalance across the country.
However, this is a rare instance where a woman has been "abandoned" for not giving birth to girls, although the motive, if her allegation is proved to be true, would turn out be for very different reasons.