John Kerry urges stronger India-US ties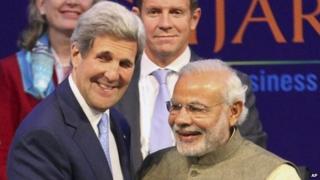 US Secretary of State John Kerry has called for stronger US-Indian trade ties at an international investor conference ahead of President Barack Obama's visit to India this month.
Mr Kerry said better economic ties would help boost India's growth and fight climate change.
Bilateral foreign direct investment now stands at nearly $30bn (£19bn).
Mr Obama will be the chief guest at India's Republic Day ceremony in the capital on 26 January.
Speaking at the investment conference in the western Indian city of Ahmedabad on Sunday, Mr Kerry described Indian PM Narendra Modi as a "visionary prime minister".
"We can do more together, and we must do more together, and we have to do it faster," Mr Kerry told the meeting.
"Together, we can create an environment where all of our companies play leading roles in bringing cutting-edge technologies, equipment, capital, and know-how not just to India but to countless countries that need this growth and development now."
Mr Kerry is travelling to Pakistan later on Monday where he will meet Prime Minister Nawaz Sharif.
Security will be high on the agenda after last month's attack on a school in the Pakistani city of Peshawar where more than 150 people, mostly school children, were killed.
Mr Kerry was involved in a minor road accident on the way to the airport in Ahmedabad city, but he was not injured.
State Department spokeswoman Jen Psaki said Mr Kerry's car and another one in the motorcade "had a minor traffic accident resulting in some damage to both cars".
"Secretary Kerry was in the first of the two vehicles. He sustained no injuries, nor did any staff or personnel."
Red tape crackdown
At Sunday's meeting, Mr Modi pledged to cut red tape, pursue predictable policies, ensure stable taxes and make India the "easiest place" to do business.
"We are trying to complete the circle of economic reforms speedily," he told the meeting.
"We no longer live in a world where a country is going to be competitive if the bureaucracy sends people from door to door and window to window and meeting to meeting," he said.
Reports said US officials were working on agreements that could include a solar energy deal and a plan to improve rural electrification that they hoped could be signed during Mr Obama's upcoming visit to India.
In September, Mr Modi and President Obama called for a "new agenda" between their countries during Mr Modi's visit to America, his first since being elected last summer.