Greenpeace India member 'offloaded' at Delhi airport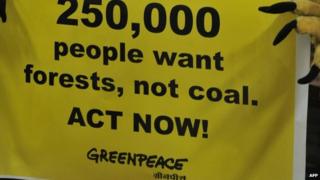 The global campaign group Greenpeace has asked the Indian government to explain after one of its activists was prevented from travelling to London.
Priya Pillai was due to brief British MPs on how a proposed coal mine by a UK-based company was threatening the livelihoods of local villagers.
Greenpeace has alleged that she was refused permission to board her flight by immigration officers on Sunday.
The Indian government is yet to comment on the allegation.
Ms Pillai said in a statement that she had a valid visa but was barred from boarding the aircraft by immigration officials who stamped her passport with the word "offload".
"Today my right to freedom of movement has been infringed and there was an attempt to treat me like a criminal."
Ms Pillai said officials told her they were "just following orders from the Indian government".
Greenpeace has described the move as an attempt by the country's government to intimidate and bully the rights group.
It said the move was part of an ongoing campaign to crackdown on the group - four months ago, another Greenpeace campaigner was prevented from entering India.
Last year, an Indian intelligence report accused several campaign groups of stalling development projects by carrying out protests.