India's Delhi headed for fresh elections on 7 February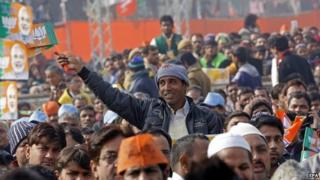 India's Election Commission has called fresh assembly polls in the capital, Delhi, after the main parties were unable to form a government for a year.
Chief Election Commissioner VS Sampath said voting will be on 7 February and votes will be counted on 10 February.
Delhi has been without a government since February, when the then chief minister Arvind Kejriwal quit after an anti-corruption bill was blocked.
Since then, the state has been governed directly by the federal authorities.
Voting will be held at 11,763 polling stations where 13 million voters will elect candidates for the 70 assembly constituencies, Mr Sampath told a press conference in Delhi on Monday.
A BBC correspondent in Delhi says major political parties have already begun campaigning for the polls in which Prime Minister Narendra Modi's Bharatiya Janata Party (BJP) is pitted against Mr Kejriwal's Aam Aadmi (Common Man's) Party.
The AAP did not do well in last summer's general election which was swept by the BJP, but in recent weeks Mr Kejriwal has once again emerged as the major obstacle to the BJP's electoral hopes.
At the weekend, Mr Modi kicked off his party's election campaign in Delhi by addressing a political rally where he promised round-the-clock electricity to the city which routinely faces long power cuts in the summer months.
The BJP was the single largest party in the 70-member state assembly in the December 2013 election when the party won 31 seats and one seat was won by its ally the Shiromani Akali Dal.
But as the party did not have a majority in the assembly, Mr Kejriwal formed a government with support from the Congress party. The AAP had 28 seats while the Congress had just eight.
Mr Kejriwal quit on 14 February after 49 days in office after opposition politicians blocked his bill, which would have created an independent body with the power to investigate politicians and civil servants suspected of corruption.