Indian media welcome Delhi poll dates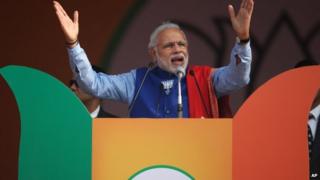 Media in India welcome the announcement of fresh elections in Delhi amid hopes of government formation after a year-long political deadlock.
Chief Election Commissioner VS Sampath on Monday said polling will be on 7 February and votes will be counted on 10 February.
Delhi has been without a government since February, when the then chief minister Arvind Kejriwal quit after an anti-corruption bill was blocked.
Since then, the state has been governed directly by the federal authorities.
The Times of India says "the Delhi electorate needs a functioning government with an enlightened leadership".
Papers have also predicted a two-way battle between Mr Kejriwal's Aam Aadmi Party (AAP) and Prime Minister Narendra Modi's Bharatiya Janata Party (BJP).
"Most analysts see the election as a two-way contest between the BJP and AAP with price rise and women's safety emerging as key electoral issues, though the Congress is also looking to revive its fortunes in the 70-member assembly following a string of defeats last year," says the Hindustan Times.
Papers say the polls will also mark a battle between the two "charismatic leaders".
"Devoid of a strong local leadership, BJP is banking on the PM's appeal to win the day once again...AAP leader Arvind Kejriwal poses a different challenge: he is easily the most recognisable face in Delhi politics and has shown a capacity to punch above his weight," The Times of India adds.
---
'Live commentary' to stop open defecation
A village in the central Indian state of Madhya Pradesh has decided to use "live commentary" to stop people from defecating in open spaces.
The village chief has decided to use the area's public address system to start announcing movements of anybody who takes a walk to open areas for defecation.
"Thanks to a novel idea by the woman sarpanch (headman), every time a resident of the village takes that trademark water container and walks towards the fields early in the morning, details of their movements are broadcast 'live' on a public address system," reports the Hindustan Times.
Open defecation continues to be India's major health worry and Mr Modi has said his government would try to limit the practice.
A staggering 70% of Indians living in villages - or some 550 million people - defecate in the open. Even 13% of urban households follow the practice.
BBC Monitoring reports and analyses news from TV, radio, web and print media around the world. You can follow BBC Monitoring on Twitter and Facebook.