RK Laxman: Legendary Indian cartoonist in hospital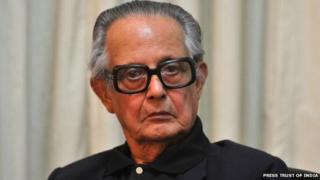 Legendary Indian cartoonist RK Laxman is in a critical condition in hospital after suffering multiple-organ failure, doctors say.
He was admitted to the Deenanath Mangeshkar Hospital in the western city of Pune on Saturday with an infection.
Laxman, 94, is in intensive care and on ventilator support, doctors say.
Best known for his iconic "Common Man" character, he is credited with holding a mirror to Indian society with his satirical works targeting politicians.
For more than five decades from 1951, his daily cartoon called "You said it" appeared on the front page of the country's leading newspaper The Times of India, where the cartoonist offered a glimpse into the aspirations and quirks of Indians.
In 2005, the government honoured him with the Indian civilian award Padma Vibhushan.
In December 2001, an eight-foot-tall bronze statue of the Common Man was unveiled in Pune.
The Common Man also featured in a commemorative stamp released by the Indian Post in 1988.
Laxman stopped drawing a few years ago because of ill health - and the Press Trust of India (PTI) reports he suffered strokes in 2010.