Indian media: 'Dead end' for cricket chief Srinivasan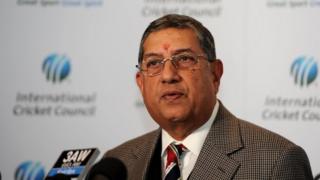 The Indian media focus on the Supreme Court's decision to bar the country's top cricket official from returning to his post, in a move seen as potentially shaking up the sport.
The judges have ruled that N Srinivasan cannot stand again as head of India's cricket board as long as he owns Indian Premier League team Chennai Super Kings, citing a conflict of interest.
Mr Srinivasan "stepped aside" as president of the Board of Control for Cricket in India (BCCI) last year over accusations of involvement in illegal betting and spot fixing.
A Supreme Court report cleared him of the allegations in November.
Despite this, "Srinivasan has reached a dead end", the Times of India says.
The paper adds that the question is now whether Mr Srinivasan's allies in the BCCI will put up a placeholder candidate, and whether they will gain the support of a bloc of eight members seen as loyal to India's governing Bharatiya Janata Party.
The New Indian Express says the court ruling forces Mr Srinivasan to "choose quickly" between selling the Chennai Super Kings and giving up on the BCCI presidency.
The Asian Age quotes unnamed sources close to Mr Srinivasan as saying they are confident he will find a way to contest the next BCCI election, either by selling the team or stepping down from the board of India Cement, which controls the club.
But some believe the most significant result is that the court's decision brings the "world's richest cricket body under the ambit of public scrutiny", as the Hindustan Times puts it.
"This could change everything for Indian cricket", Firstpost comments. "The BCCI can no longer operate like its own little country, where it makes whatever laws it wants and acts as its own judge, jury and executioner."
'Embarrassment'
In other news, the main opposition Congress Party has rebuked one of its most senior leaders for appearing to lavish praise on Prime Minister Narendra Modi.
Janardan Dwivedi was quoted telling an online web portal on Wednesday that Mr Modi's election win last year was a "victory of Indian-ness", in remarks described by the Times of India as causing "severe embarrassment" to his party.
Mr Dwivedi insists his comments have been taken out of context, and were meant as analysis of the BJP's election strategy, but this has not stopped the Congress party "coming down heavily" on him, according to The Hindu.
"Narendra Modi can never be the symbol of Indian-ness," the daily quotes the party's communications chief, Ajay Maken, as saying in response.
Mr Dwivedi was also invited to attend the party's disciplinary action committee, although no sanctions have been decided on.
Meanwhile, the BJP appears to be enjoying Congress' discomfiture, with Commerce Minister Nirmala Sitharaman saying Mr Dwivedi's comments were "based on fact", and accusing Congress of "living in denial", the Hindustan Times reports.
'Power angels'
And finally, the state of Uttar Pradesh says it will enlist 70,000 teenage schoolgirls as so-called "special police officials" in a bid to improve its poor record on women's safety, the Times of India reports.
To be known as "power angels", the girls - recruited from school years 10-12 (ages 15-18) - will be trained to protect themselves and help others in distress - or "say no to nonsense", as officials in charge of the scheme say.
They will also act as "eyes and ears" of the police, providing information about crimes against women, one official, Raghavendra Pratap Singh, is quoted saying.
The project is a response to the "dismal" record on crime targeting women in Uttar Pradesh, where instances of rape rose by 55% between 2012 and 2013, according to the daily.
BBC Monitoring reports and analyses news from TV, radio, web and print media around the world. You can follow BBC Monitoring on Twitter and Facebook.