India cancels 'house of horrors' child-killer execution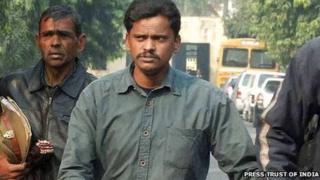 A notorious Indian child-murderer convicted in a case dubbed "the house of horrors" has had his death penalty commuted to life in prison.
The Allahabad High Court ruled Surinder Koli had waited too long for his mercy plea to be heard, making his execution unconstitutional under Indian law.
He was convicted in 2009 of killing at least five children in the Delhi house where he worked as a servant.
Police suspect at least 19 people were raped, killed and dismembered.
Since January last year, Indian courts have granted reprieves to several prisoners on death row after a Supreme Court ruling said long delays in deciding mercy pleas were "inhuman".
The court granted reprieve to 15 death row prisoners, including four associates of the notorious bandit Veerappan and two other men convicted of murdering their relatives.
In February, three men convicted of plotting the 1991 assassination of former Prime Minister Rajiv Gandhi were spared, as the government took 11 years to decide their mercy plea.
'Police negligent'
Koli and his employer, Moninder Singh Pandher, were arrested in 2007 after body parts were found near their home.
They were both convicted and sentenced to death, but Pandher was later acquitted by a higher court.
The killings in Noida, a Delhi suburb, shocked the country and many accused the police of negligence.
Local residents said that police failed to act over the abductions and murders because many of those reported missing came from poor families.
They said as many as 40 children disappeared in the area over two years before the crime came to light in December 2006.
The remains of the children were found hidden in bags.