Indian media: Delhi poll battle intensifies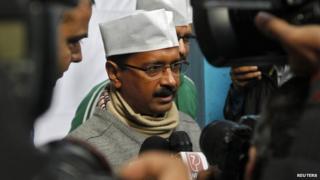 Media in India highlight intense political campaigning ahead of the Delhi assembly elections.
The capital will vote on 7 February and counting for the 70-member state assembly is due on 10 February.
Delhi has been without a government since Aam Aadmi Party (AAP) leader Arvind Kejriwal resigned from the chief minister's post last February when his anti-corruption bill was blocked.
Since then the state has been governed directly by the federal authorities.
Analysts predict a two-way contest between the AAP and Prime Minister Narendra Modi's Bharatiya Janata Party (BJP).
The Congress is likely to do well in some areas, observers say.
The three parties have "thrown in massive resources" to attract the voters of Delhi.
The Hindustan Times reports that "the stakes are high and the BJP is pooling in massive resources at hand for the maximum impact before Delhi goes to polls".
"As many as 120 MPs from 13 states will address over 250 public meetings in the last week of campaigning. The party is coming out with newer strategies to trump rivals, specially AAP's reach out to the voters," the paper adds.
The AAP too has been holding smaller public meetings and discussing issues that are specific to each constituency.
"AAP has focused on issues like making power supply uninterrupted and more affordable, providing drinking water at cheaper rates, regularising slums, improving the condition of roads, and other similar matters which directly affect the common man," The Economic Times reports.
Congress party's vice-president Rahul Gandhi seems to be leading his party's campaign in the state.
He has criticised Mr Kejriwal and the BJP's chief ministerial candidate Kiran Bedi.
He said both the BJP and the AAP want power and do not really care about the concerns of the people, The New Indian Express reports.
And finally, some Indian states are facing a severe shortage of condoms, sparking health concerns, The Times of India reports.
States get condoms under the government's AIDS control programme, but the shortage has raised public health concern over the risk of HIV infections spreading, the paper adds.
Sources told the paper that the shortage has been caused by "bureaucratic delays".
BBC Monitoring reports and analyses news from TV, radio, web and print media around the world. You can follow BBC Monitoring on Twitter and Facebook.