Skeleton sacks baffle India police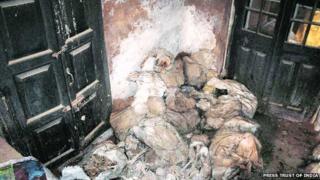 Dozens of skeletons and decayed body parts have been discovered in a disused room of an Indian police building.
Sacks containing the human remains were reportedly uncovered by workers at the building, in Unnao in Uttar Pradesh.
Police said they could not explain where the bodies came from, but said they believed the room had been used as a mortuary until 2008.
Regional authorities have promised to conduct DNA testing and investigate why the bodies were not disposed of.
Unnao police chief Mahendra Pal Singh told the Times of India that records showed there were roughly 100 bodies kept at the police building for investigation.
He said a "proper probe and DNA testing would be done to corroborate the facts".
"We will also look into the case thoroughly to ascertain as to why the human remains were not disposed of," he said.
Analysts said the case appeared to breach procedures laid down for the disposal of bodies after post-mortem examinations.
Separately, the authorities in Unnao district are still investigating the recent discovery of more than 100 bodies in the Ganges river.
They are thought to have been dumped by families who were too poor to pay for a proper cremation.