Indian media: Legendary Leander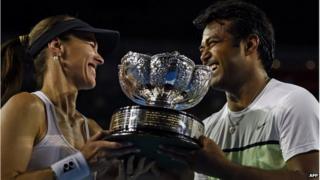 Media in India praise "evergreen" tennis star Leander Paes for winning his 15th Grand Slam title.
The 41-year-old partnered with legendary Martina Hingis to win the Australian Open mixed doubles, beating Kristina Mladenovic of France and Daniel Nestor of Canada 6-4, 6-3.
Papers seems to be in awe of the Indian tennis legend who appears to be getting better with time.
"At an age when men are happy showing off their calorific beer bellies, Leander Paes is busy rewriting tennis history," writes the DNA newspaper.
Papers say both Paes and Hingis are celebrated players and another title has only added more glory to their reputation.
"While Paes clinched his seventh mixed doubles crown, Hingis, who came out of retirement for the second time a couple of years back, collected her 11th doubles slam apart from her five singles titles," says a report on the NDTV website.
Delhi poll battle
Elsewhere, papers are closely following political parties' every move ahead of the assembly elections in Delhi.
Prime Minister Narendra Modi on Sunday gave a speech in the Dwarka area of the capital urging residents to vote for his Bharatiya Janata Party (BJP).
Mr Modi said "a BJP government in Delhi would be 'afraid of Modi' and will perform", The Times of India reports.
Observers say the contest between the BJP and the Aam Aadmi Party (AAP) is likely to be intense.
AAP leader Arvind Kejriwal once again promised voters that he will not resign if he is elected as the chief minister.
"I have learnt my lesson. I will not quit again. In the 49 days that we were in power… jo kaha vo kiya [we did what we promised]," the Hindustan Times quotes him as saying during a speech in Shastri Nagar area.
Delhi has been without a government since Mr Kejriwal resigned from the chief minister's post last February when his anti-corruption bill was blocked.
While highlighting the AAP's "feisty campaigning", the Times of India says "challenges are abound" for the BJP.
"Delhi polls represent a prestige election for the party. Given Delhi's highly urbanised and politically aware electorate, a victory here would confirm BJP's credentials as a party with a difference," the paper says.
The Congress Party which performed very poorly in the general elections last year is also hoping to gain some ground in the upcoming polls.
During a speech in the Badarpur area, Congress party president Sonia Gandhi said both the AAP and the BJP were making "false promises", the Hindustan Times reports.
BBC Monitoring reports and analyses news from TV, radio, web and print media around the world. You can follow BBC Monitoring on Twitter and Facebook.