India Maoist rebels kill policemen in Chhattisgarh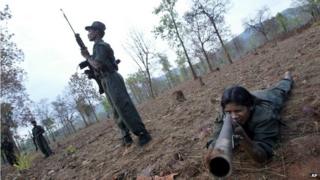 Maoist rebels have killed two policemen and injured at least six others in an ambush in central India, officials say.
The rebels attacked the security forces in Kanker district of Chhattisgarh state, 250km (155 miles) from the state capital Raipur.
The police were surrounded and attacked in a forested area. The injured were airlifted to Raipur for treatment.
The Maoists say they are fighting for communist rule and greater rights for tribal people and the rural poor.
They are active in more than a third of India's 600 districts and control large areas of several states in a "red corridor" stretching from north-east to central India.
Senior police official AK Vij told the Press Trust of India that the security forces were engaged in a two-hour-long gun battle following the ambush on Monday evening.
The dead included the chief officer of a local police station and an assistant constable. Two villagers were also injured in the fighting, he said.
The policemen were on the way to two villages to look for rebels when they were ambushed, police said. The rebels escaped into the forest after the attack.
Chhattisgarh state is often hit by rebel violence. At least 29 policemen were killed in two separate attacks in March and December last year.
In May 2013, Maoists targeted a convoy carrying state Congress leaders and party workers in Sukma district, killing 27 people, including some top state politicians.