Indian media: Delhi election promises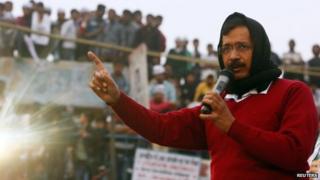 Media in India are analysing the manifestos of the three main political parties ahead of the assembly elections in Delhi.
Voting will be held on 7 February and results announced on 10 February.
The Bharatiya Janata Party (BJP) released its "vision document" on Tuesday. The Aam Aadmi Party (AAP) and the Congress have also released their manifestos.
Papers say some issues are common in the promises made by the three parties.
"Issues like zero tolerance towards corruption, reduction of electricity bills, women's security and installation of CCTV cameras in residential colonies and in buses find mention in the election promises of all the three political parties," says the CNN-IBN website.
But the parties differ on some issues.
The AAP has promised to make Delhi a free WiFi zone, and to bring in a new anti-corruption legislation within 15 days of coming to power.
The AAP's chief Arvind Kejriwal quit as the chief minister of Delhi in February last year after a similar law was blocked in the state assembly. He was running a minority government with help from Congress party's support.
The Congress and AAP have promised to look at granting "full statehood" to Delhi, but the BJP has remained silent on the issue.
The Delhi state government currently has no control over some departments, like the police force, because they are directly run by the federal government.
The BJP has also promised to provide housing for all and to put in resources to clean the heavily polluted Yamuna river.
Some papers, however, say that such promises do not mean much to the voter because they are rarely fulfilled.
"The fact that political parties chose to delay their manifesto announcements until less than a week before voting shows how little meaning these ritualised promises - which are seldom implemented once elections have been won and lost - actually hold for many voters," says The Times of India in an editorial.
BBC Monitoring reports and analyses news from TV, radio, web and print media around the world. You can follow BBC Monitoring on Twitter and Facebook.