Rahul Gandhi defends himself over ex-minister's criticism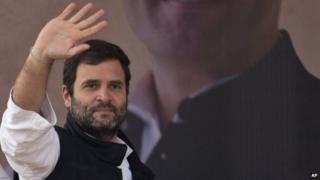 India's main opposition Congress party leader Rahul Gandhi has defended himself against allegations by a former minister who quit the party last week.
Jayanthi Natarajan had accused Mr Gandhi of "interfering" in her work when she was environment minister.
Mr Gandhi said he had only asked Ms Natarajan to "protect the environment".
Ms Natarajan's ministry was often blamed for holding up growth by refusing environmental permissions for major industrial projects.
She was environment minister in the Congress-led federal government from 2011 to 2013. It is not clear why Ms Natarajan chose to make the allegations almost two years after she quit her post.
Ms Natarajan said last week that she was "asked by Rahul Gandhi's office to make sure environment was protected and to ensure large projects don't cause tremendous havoc".
The projects include plans by mining group Vedanta to extract bauxite in the state of Orissa.
Mr Gandhi said he had indeed asked Ms Natarajan to protect the environment and the poor.
"I want to tell you that I have fought for the poor and the tribespeople and I had told Jayanthi Natarajan that we should look into the welfare of the environment, poor and the tribespeople," the Press Trust of India news agency quoted Mr Gandhi as saying during an election meeting in Delhi on Wednesday.
"I will continue to fight for the poor and the weaker sections," he added.
Mr Gandhi is the heir of the powerful Nehru-Gandhi political dynasty that has dominated Indian politics for decades.
Ms Natarajan's resignation came as a setback to India's main opposition party, which is still to recover from its worst ever election performance in May. Mr Gandhi had led the party into the election and managed its campaign.