Trapped Indian nurses rescued in Iraq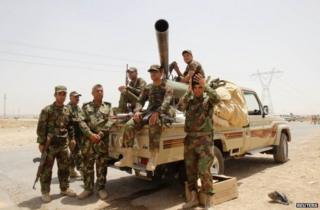 A group of 11 Indian nurses trapped in the fighting in Iraq have been rescued and will return home on Saturday, India's external affairs ministry said.
The nurses have been handed over to Indian officials in the Kurdish city of Irbil.
They hail from the southern Indian state of Kerala and were working in hospitals in the Iraqi city of Kirkuk.
Kirkuk has seen heavy fighting between Kurdish Peshmerga forces and Islamic State militants.
The city is home to Arabs, Kurds and Turkmen and all three groups have competing claims to the province, which is rich in oil.
India's foreign ministry spokesperson Syed Akbaruddin tweeted on Friday: "Beginning the day with good news. 11 Indian nurses from Kerala, evacuated from Kirkuk, to return home from Irbil on 7 February."
Last July, 46 Indian nurses, working at a hospital in the northern city of Tikrit and trapped in the fighting were freed and handed over to Indian officials.
Reports say some 40 Indians are still being held hostage by jihadist fighters from the Islamic State in Iraq and the Levant (Isis) in Iraq.
The Indians were working on construction projects near the Iraqi city of Mosul when they were abducted by the fighters.