Temple to Indian Prime Minister Narendra Modi scrapped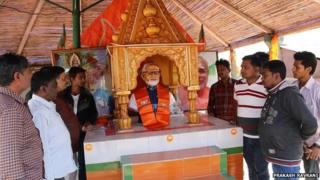 Fans of Indian Prime Minister Narendra Modi have scrapped plans to open a temple dedicated to him after he said he was "appalled" by the idea.
Mr Modi tweeted that it was "shocking and against India's great traditions".
The Hindu temple, with an idol of Mr Modi, was to open in Kotharia village in his home state of Gujarat on Sunday.
Jayesh Patel, head of the group that built the temple, told BBC Hindi it would still open but he would replace the Modi idol with one of Mother India.
"Our belief will remain the same but there will be no Modi idol now," he said.
Honouring politicians, film stars and cricketers with shrines, idols and temples is relatively common in India.
Temples have been built in the memory of former Prime Minister Indira Gandhi and film star-turned-politician NT Rama Rao.
Last January, a temple with an idol of Sonia Gandhi, the head of India's main opposition Congress party, was opened by a supporter in southern India.
And this is the second temple to Mr Modi - a priest in Kaushambi district in northern India had placed a statue of Mr Modi alongside a statue of Hindu god Shiva to pray for his victory in last year's general election.
Reports say the temple is still in operation.
'Incarnation'
Some 350 Modi supporters collected donations for the construction of a dome-roofed temple, some 210km (130 miles) from Gujarat's main city of Ahmedabad.
Mr Modi served as the chief minister of Gujarat from 2001 until becoming prime minister.
The supporters initially put a framed photograph of the prime minister in the temple, but later bought an idol for 170,000 rupees ($2,724; £1,789).
"We believe he is an incarnation of God as after he became chief minister of Gujarat things changed for the better," one supporter, Ramesh Undhad, told AFP news agency.
---
Analysis: Soutik Biswas, BBC News, Delhi
There is a tradition of building temples and deifying politicians and film stars in India, especially in the south of the country. Tamil Nadu, for example, has temples and shrines to the late film star MG Ramachandran, one of its most popular leaders.
Sometimes fans can turn against their idol: a temple devoted to film star Khusbhoo, for example, was later torn down by her fans after she made controversial remarks on pre-marital sex in 2005.
Some temples are hole-in-the-wall shrines with a small idol; others are like fan clubs for supporters. The temple devoted to Mr Modi in Gujarat appears to fall in the second category.
It is also not the first time a temple has been devoted to the prime minister. In January last year, some of his supporters converted a small Shiva temple into a "Modi temple" in the northern state of Uttar Pradesh. An idol of Mr Modi was placed there and, according to reports, the temple is now called the NaMo temple.
Clearly, the cult of personality around Mr Modi is attracting a lot of "devotees".
---
Mr Modi tweeted on Thursday that building such temples was not what Indian culture was about.
"Personally, it made me very sad. Would urge those doing it not to do it," he wrote.
He urged his supporters to donate time and resources to worthy causes.