Indian media: Cricket World Cup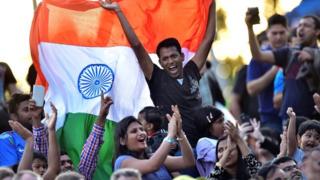 India's newspapers assess their team's chances as the cricket World Cup gets under way in Australia and New Zealand.
After Friday's opening ceremony kicked off proceedings in colourful style, the Hindustan Times uses vivid language to express the anticipation as India seeks to defend the title it won in 2011.
"The World Cup is back," it exclaims. "And with it come dizzying expectations, nail-biting anxiety and nervous tension that trigger more blood-pressure spikes and heartburn than unreasonable spouses and unrelenting bosses".
But views on the holders' chances are more lukewarm.
The Hindu thinks that, unlike four years ago, India are not "the overwhelming favourite, but a limping, if eager, contender".
For one thing, legendary batsman Sachin Tendulkar and other heroes of 2011 are no longer around, and captain MS Dhoni's squad are relatively inexperienced, the paper says.
Arguing that the success of the cup as a spectacle relies on India lighting up the tournament, The Times of India believes the team could be let down by its bowling department.
"Unless a team picks up wickets at the start, they will find it impossible to contain quality opposition in the latter half of the fifty overs in good batting conditions," the paper says. "And that's where India are going wrong."
But DNA believes that India can benefit from its new dark-horse status.
"Never in the last six world cups has an Indian side looked so unlikely to win the cup before it began," the paper concedes, and adds: "And therein lies India's biggest advantage."
"The team might look jaded on current form, but if they manage to compliment and do their jobs - who is to say they won't go all the way?"
BJP for Kashmir?
Several papers report that the end might be in sight for the nearly two-month long political stalemate in Indian-administered Kashmir.
The state has been under the rule of its centrally appointed governor since elections in December returned a hung state assembly.
Now, the first-placed regional People's Democratic Party (PDP) and Prime Minister Narendra Modi's Bharatiya Janata Party (BJP) have reached agreement on 98% of a joint coalition programme, and could have an administration in place before the start of parliament's budget session on 23 February, The Hindu reports.
The BJP has never been in government in the state, and success in forming a coalition would "lift spirits dampened" by its crushing defeat at the hands of anti-corruption campaigner Arving Kejriwal in Delhi state elections, according to DNA.
Spreading the love
A Hindu nationalist group has vowed to counteract the growing popularity of Valentine's Day and its "Western ways" of displaying public affection by promoting a Hindu alternative.
The group, Hindu Mahasabha, says it will send out teams of boys and girls with white roses or other flowers to public places frequented by young couples on Valentine's Day, in what it describes as the traditional manner of celebrating the Hindu festival of Basant Panchami, Firstpost reports.
"We are not against love as we are the country which has spread love all over the world," says Hindu Mahasabha president Chandra Prakash Kaushik, "but we are against the Western influence on our society and by offering white flowers we will be spreading the message of peace."
Last week, the group said it would try to get all couples who publicly displayed their affection for each other married - a proposal that was greeted with hilarity on social media.
BBC Monitoring reports and analyses news from TV, radio, web and print media around the world. You can follow BBC Monitoring on Twitter and Facebook.