India bus crash kills 10 in Madhya Pradesh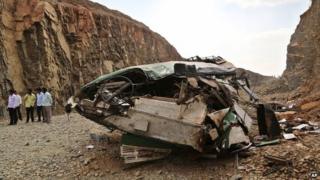 At least 10 people have been killed after the bus they were travelling in plunged down a deep gorge in India's central state of Madhya Pradesh.
Reports say the driver lost control of the bus in the Machalia Ghat area of Dhar district, some 125km (77 miles) from the city of Indore late on Monday.
More than 30 people were injured in the incident.
Bus crashes are common in India and often caused by poorly maintained vehicles, overloading and bad driving.
In the latest incident, the bus, carrying more than 40 passengers, was travelling to Rajasthan from Indore when the incident occurred.
Every year, tens of thousands of people are killed on the country's roads and the numbers have been rising steadily - nearly 140,000 people were killed in 2013, according to the government's National Crime Records Bureau.
Last year, a bus plunged into a gorge in the western state of Maharashtra killing 27 people.
In October 2013, at least 42 people died after the luxury bus they were travelling in caught fire in the southern state of Andhra Pradesh. Police say a collision with a culvert ignited the fuel tank of the vehicle.