Indian media: Kashmir government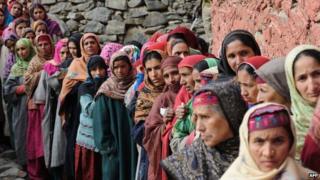 Media in India have focused on the ongoing consultations to form a government in Indian-administered Kashmir.
The state gave a "fractured mandate" on 23 December after a fiercely fought election and no party crossed the 44-seat mark needed to form a government in the state.
The regional People's Democratic Party (PDP) won 28 seats, and Prime Minister Narendra Modi's Bharatiya Janata Party (BJP) came second with 25 seats.
The two haven't been able to agree on forming a coalition government, and that has led to the state coming under the president's rule.
PDP leader Mufti Mohammad Saeed said his party was holding discussions with the BJP on government formation, but he admitted there were major differences between the two parties.
"Ideologically we are North Pole and South Pole but the state has given us a historic opportunity to unite Jammu with Kashmir and to unite the state with India," Mr Saeed told the Hindustan Times.
'Hearts and minds'
He urged Mr Modi to use the "historic opportunity" to bring his Hindu nationalist party closer to the Muslim-majority state of Jammu and Kashmir.
"It is also Mr Modi's duty to connect Jammu and Kashmir with the rest of the country. You think they can keep the state under force? Hearts and minds have to be won. He is now the prime minister of the country," he added.
The PDP wants the BJP to make its stand clear on Article 370 of the Indian constitution.
The article gives the state a special status and allows it to make its own laws and have a greater autonomy.
The BJP has traditionally been against the article, but Kashmiri parties, like the PDP, staunchly defend the state's "special status".
An article on the First Post website reports that the "PDP wants the BJP to give it a written assurance that status quo will be maintained on Article 370".
Reports say the BJP hasn't made its stand clear on the issue, but its chief Amit Shah has been meeting senior leaders to come up with a plan to form an alliance with the PDP.
The Hindu reports that Mr Shah on Thursday met senior RSS leaders to discuss the issue. The BJP draws its ideological roots from the RSS and often consults it on key issues.
Feeding monkeys
Meanwhile, a court in Delhi has ordered the government to appoint an agency to feed monkeys at a wildlife sanctuary, The Indian Express reports.
The court was hearing a petition that claimed that monkeys at the Asola-Bhatti Wildlife Sanctuary, located in the outskirts of Delhi, were not getting enough food.
The sanctuary is used to rehabilitate monkeys caught in the city.
BBC Monitoring reports and analyses news from TV, radio, web and print media around the world. You can follow BBC Monitoring on Twitter and Facebook.