Who were the bidders for Modi's suit?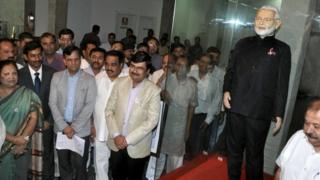 Diamond barons and millionaire businessman gathered in the Indian state of Gujarat to bid for a suit emblazoned with pinstripes spelling the name of Prime Minister Narendra Modi.
The winning bid soared above 43m rupees ($690,000; £450,000).
Mr Modi auctioned the suit, which he wore during a meeting with US President Barack Obama last month, after critics accused him of extravagance.
BBC Hindi's Ankur Jain has the stories of some of the main bidders.
---
Hitesh Patel: Diamond millionaire - Bid $690,000
His father's company, Dharmanandan Diamonds, has a turnover of more than $900m. His father, Lavji Patel, is also a partner in an air-taxi service and a hospital project.
The firm was raided by revenue intelligence officers for evading import duty.
"Mr Modi and my father have known each other for some time," Hitesh Patel told the BBC.
"Mr Modi has attended all our social events. We want to buy this suit and donate for the cleaning of Ganges river."
---
Mukesh Patel: Diamond trader - Bid $320,000
He is known to be close to Mr Modi, and is also a friend of businessman Ramesh Kumar Virani, who claims to have gifted the suit to the prime minister.
His first bid, made earlier on Friday morning, was for $239,220.
His firm - M Kantilal and Company - was accused of 1.55bn rupees ($24.9m; £16.19m) tax evasion.
---
Lavji Badshah: Entrepreneur - Bid $290,000
In 2013, the Gujarat government allotted a plot of land in Surat to Mr Badshah and his partners, including Lavji Patel, to build a hospital. Mr Modi, who was then the state's chief minister, attended the foundation-laying ceremony.
A year before that, about 100 tax officials had raided Mr Badshah's offices.
Mr Badshah is also Lavji Patel's partner in the air taxi service which was started last year.
At noon on Friday, he was leading the auction.
---
Kamal Kant Sharma: Entrepreneur - Bid $225,000
"The suit has a story of two great leaders, Mr Modi and Mr Obama," he said during the auction.
A millionaire with interests in the ship-breaking industry, Mr Sharma's company was raided by tax authorities in 2012.
"In India, you can't be a big business if you are not raided at least once by tax sleuths," he said.
"My office was raided just before my daughter's wedding."
Mr Sharma said he wanted to gift the suit to his grandchildren, adding: "I will be paying for it from my hard earned money."