India's Rahul Gandhi takes 'break' from politics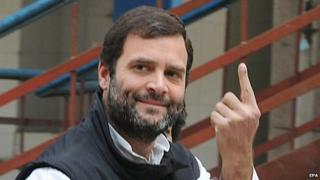 Rahul Gandhi, India's main opposition Congress vice president, is taking a leave of absence from parliament to focus on party work, media reports say.
Mr Gandhi, who led his party to its worst performance in May's general election, wanted time to think, party officials were quoted as saying.
He did not attend the opening day of the new session of the parliament.
Mr Gandhi's reported move comes days after his party failed to win a single seat in state polls in Delhi.
"Rahul Gandhi wants to take a short break. He wants to assess his role and the party's future," an unidentified senior party official was quoted by Reuters news agency as saying.
The NDTV news channel quoted party leaders as saying that Mr Gandhi "had been granted a leave of absence for a few weeks after which he will return and resume his active participation in the affairs of the party".
Twitter incredulity
The ruling BJP party accused Mr Gandhi of "holidaying" during India's budget session, whilst the move created a lot of comment on social media.
When the going gets tough, the tough go on sabbatical.. read one tweet. Maybe that #RahulOnLeave thing is actually an old announcement, from 2010?... , read another, poking fun at his perceived lack of dynamism.
Mr Gandhi is the heir of the powerful Nehru-Gandhi political dynasty that has dominated Indian politics for decades.
The Congress party has suffered a series of election setbacks since it lost power in May last year.
Some Congress leaders have suggested that Mr Gandhi formally take charge of the Congress party from his mother, Sonia Gandhi.
Other say he remains aloof from party workers, and have called for his sister Priyanka Gandhi to take a more prominent role in the party.
However, Ms Gandhi has shown no inclination to join the party.