India MPs stage parliamentary walkout over land law changes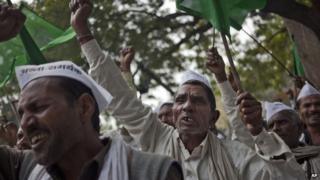 MPs belonging to India's main opposition Congress party have walked out of the parliament in protest against a controversial land acquisition bill.
Opponents of the bill, which was tabled in the lower house on Tuesday, say it will hurt the interests of farmers.
The bill eases rules for acquiring land for infrastructure projects.
The government says it is aimed at kick-starting stalled projects across the country worth billions of dollars.
Several thousand people are also protesting outside parliament against the bill, led by anti-corruption campaigner Anna Hazare.
Industrialists had raised concerns over a law approved by the former Congress party government last year which made it tough to acquire land from farmers.
Under the law, the consent of 70% of families is required where land is sought to be acquired for public-private partnership projects, and 80% for private projects.
In December, the Narendra Modi-led BJP government passed an emergency executive order removing these requirements for a range of projects, including those relating to defence and national security, rural infrastructure, affordable housing, industrial corridors and infrastructure.
The order also exempted these projects from having to go through a social impact assessment - a study by independent experts to determine a project's impact on people's lands and livelihoods, and its economic, social and cultural consequences, in consultation with affected communities.
Deadline
The executive order will lapse if not approved within six weeks after the beginning of the parliament session. The ruling BJP party and its allies are expected to encounter a hurdle in the upper house of the parliament where they are in a minority and need the support of opposition parties to pass laws.
On Tuesday, Congress leader Anand Sharma accused the government of "bypassing the parliament" by resorting to executive orders to pass crucial bills.
His colleague Ghulam Nabi Azad said his party will "protest and fight against the government on this issue inside and outside the parliament".
Rights group Amnesty International researcher Aruna Chandrasekhar said the "land acquisition ordinance extended compensation and rehabilitation benefits to communities affected by certain kinds of development projects".
"But it also dismantled safeguards that are central to the land acquisition law, undermining the rights of communities to participation and consultation."
Media reports said that Prime Minister Narendra Modi had asked his MPs to defend the bill vigorously.
In his address to the parliament on Monday, President Pranab Mukherjee defended changes in the bill, saying they would "minimise" difficulties in getting land for critical public projects.
"My government attaches paramount importance to safeguard the interest of farmers and families affected by land acquisition," Mr Mukherjee said.
The row over the land bill threatens to disrupt other business in the ongoing session of the parliament, in which the government aims to push through reforms on the coal, insurance and mining, as well as present the federal budget.