India acquits six over Gujarat killing of UK tourists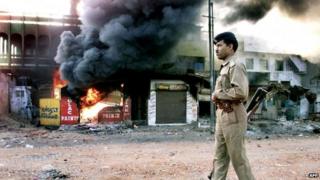 Six people accused of burning three British tourists to death in 2002 riots in the Indian state of Gujarat have been acquitted.
The court ruled that there was no evidence against the accused.
A Hindu mob apparently burnt the three British Muslims in riots sparked after 60 Hindus were killed in a train fire.
More than 1,000 people, mostly Muslims, were killed in the riots. Rights groups say the Gujarat government has failed to bring justice for the victims.
The three Britons - Saeed and Shakil Dawood and Mohammad Aswat - were murdered near Prantij town of Gujarat's Sabarkantha district.
The rioters stopped their car at a road block when they were returning to Gujarat after a visit to Jaipur.
The three men and their driver were all burnt to death.
The family of the Britons have led a lengthy campaign for justice, even unsuccessfully petitioning the UK Home Office to deny Prime Minister Narendra Modi a visa to visit Britain.
Convictions
Mr Modi, who was the chief minister of Gujarat at the time, was blamed for not doing enough to stop the riots - a charge he has always denied.
A 2008 state inquiry exonerated him.
US-based monitoring group Human Rights Watch accused the Gujarat authorities last week of harassing rights activists rather than pursuing justice for the victims.
Some culprits have been convicted over the riots.
In 2012, Maya Kodnani, a former aide to Mr Modi, was handed 28 years in jail for her part in murdering 97 people in the riots.
In the same year, 22 people were convicted of killing 11 members of a family in Mehasana district during the riots.
Correction: This story has been amended to correct the name of one of the British victims.