Indian media: 'Pragmatic' railway budget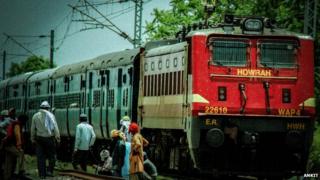 Papers say Railway Minister Suresh Prabhu has managed to set realistic targets to revive India's ageing but crucial transport network.
Unveiling the annual railway budget, Mr Prabhu on Thursday announced plans to invest $137bn (£88bn) to help modernise the network's existing tracks and introduce faster trains.
Mr Prabhu left the heavily subsidised passenger fares unchanged. The state-run railways operate more than 12,000 trains, carrying some 23 million passengers daily.
He has promised to make India's railways safer, build more lines, increase the speed of journeys on nine major routes, and improve the experience of travelling with wi-fi in stations.
Observers say India's previous railways ministers had to announce new trains and services for specific regions to keep regional parties happy in coalition governments.
But Mr Prabhu refrained from announcing new trains and instead focused on ways to improve the quality of service in the existing network of trains.
The Times of India says the minister "emphasised modernisation, upgradation of infrastructure, safety and improving the passenger experience" instead of announcing new trains.
The paper, however, feels that Mr Prabhu failed to explain how his ministry will raise the amount needed to revive the railways.
"Without private investment railways will just limp along and rely on endless freight rate increases of the kind Mr Prabhu just resorted to - a negative for this budget. Unless institutional mechanisms change and railways are able to draw in private investment, it will not succeed in becoming an engine of growth," it says.
The Asian Age too feels that the government has adopted some fresh ideas this year for the railways.
"It was refreshing to hear, after almost 30 years, a railway minister present a businesslike, non-populist budget, and not play to the gallery or use railway funds to finance new projects and trains to fulfil a personal political agenda," it says.
The paper also seems impressed with Mr Prabhu's focus on cleanliness.
"Mr Prabhu promised new experiences in customer comfort, several amenities for which he has allocated a 57% increase in expenditure, state-of-the-art stations, and cleanliness - replacing 17,000 toilets with vacuum toilets like the ones on aircraft in six months, and an additional 650 stations with new toilets," it says.
Where is the money?
The Indian Express agrees that the minister's budget has "some refreshing features".
"While the intention is laudable, it is not clear how soon these can materialise. A better bet would have been raising more internal funds...," it says.
The Deccan Herald highlights that "the minister has assured that it will remain a national asset and ruled out privatisation, though some aspects of its functioning may be made more efficient with private participation".
"It is not specified where the money will come from but the minister has indicated that it could come from insurance and pension funds, foreign sources and from public-private partnership arrangements," it adds.
The Hindu says "Mr Prabhu's maiden budget is not a typical politician's budget; it shows the deft touches of a professional who knows what it takes to turn around a leviathan's fortunes that have been on a downhill ride in the last few years".
But the paper too seems unsure about the railway's ability to raise funds.
"The investment plan for the next five years sounds impressive no doubt, but how is the railways going to fund such a mammoth sum? With operating expenses consuming nine out of every 10 rupees earned by the railways, there just isn't enough surplus to plough back into investment," it says.
BBC Monitoring reports and analyses news from TV, radio, web and print media around the world. You can follow BBC Monitoring on Twitter and Facebook.