Modi's first full budget aims to please all in India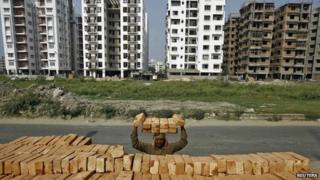 Indian Prime Minister Narendra Modi's government has unveiled a business-friendly budget aimed at attracting greater investment for the economy. It has also proposed major benefits for the poor, introducing a universal social security scheme. Analyst Paranjoy Guha Thakurta on why the budget aims to please all.
The first full budget presented by India's Finance Minister Arun Jaitley aims at pleasing all Indians, rich, middle-class and poor.
It seeks to dispel criticism that Mr Modi's government is pro-big business and favours the affluent who are often accused of evading taxes.
While promising to simplify India's complex and convoluted tax structures, the finance minister has laid out a plan to cut corporate tax over the coming years.
He has said he will clamp down on the beneficiaries of the country's "black economy", particularly on those who stash away their illegal money in overseas banks and tax havens.
Sharp fall
An examination of the fine print of the budget documents indicates that Mr Jaitley intends raising substantial revenues through sales of shares in government-owned enterprises to bridge the deficit and fund populist welfare programmes, including a multi-billion dollar rural jobs scheme.
Despite sluggish tax revenues on account of a slowdown in manufacturing and trade, the government's finances have been buoyed by the sharp fall in international prices of crude oil - India imports roughly 80% of its oil, which alone accounts for a third of its total import bill.
Roughly a third of the decline in oil prices has been passed on to the Indian consumer in the form of lower retail prices of diesel and petrol; the government has kept the remaining two-thirds of the windfall gains.
The fall in the prices of petroleum products has also been responsible for sharp deceleration in the rate of inflation - it stands at around 5%.
At the same time, Mr Jaitley has been optimistic in assuming that the inflation rate in the coming financial year - beginning in April - will be contained between 3% and 3.5%, assuming that oil prices will remain low.
In real terms, the country's gross domestic product (GDP) is expected to grow between 8% and 8.5% during 2015-16 against an estimated 7.4% in the 12 months that will end on the last day of March.
Among Mr Modi's favourite slogans are "Make in India" and "minimum government, maximum governance".
Targeting subsidies
Mr Jaitley's budget seeks to improve the ease of doing business in the country by slashing bureaucratic red tape and rationalising complicated laws.
At the same time, he hopes to increase government spending to improve India's inadequate and creaky infrastructure (electricity, roads and water) and social sector (education and health-care).
The government plans to better target subsidies on food, fuel and fertilisers through the use of modern information technology and by bringing all Indians into the banking system.
The budget proposals indicate that while collections of direct taxes (that is, taxes on personal incomes and corporate profits) would come down, the bulk of the extra revenues the government hopes to garner will come from indirect taxes, notably taxes on a wide range of services.
Mr Jaitley's critics claim his budget represents the triumph of hope over realism. Clearly, Mr Modi and Mr Jaitley have had more than their share of beginner's luck and they surely hope their luck does not run out soon.
The author is an independent journalist and economic analyst