Vinod Mehta: End of an era in Indian journalism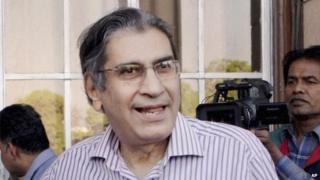 Papers, politicians and journalists are paying rich tributes to legendary Indian journalist and author Vinod Mehta, who has died aged 72.
Mr Mehta died of multiple organ failure on Sunday at a government hospital in Delhi.
He was the founder and editorial chairman of Outlook, one of India's top magazines.
In his long career as a journalist, he edited many publications, including The Pioneer, The Sunday Observer, The Independent and The Indian Post.
Prime Minister Narendra Modi acknowledged Mr Mehta's directness in opinions while paying tributes to him.
Journalists, many of whom worked under Mr Mehta, remember him as "irreverent" and feel his death is an "irreparable loss" to journalism.
'Fearless approach'
Coomi Kapoor, who worked with Mr Mehta in the late 1980s, recalls the man's fearless approach.
"As an editor Vinod Mehta never pulled rank, giving correspondents a free hand if he felt they had a valid story to tell, no matter the consequences," she writes in The Indian Express.
Ms Kapoor adds that Mr Mehta "brought a breath of fresh air into the fairly conservative world of journalism of the 1980s".
Another columnist Ajith Pillai, who worked with Mr Mehta for over two decades, agrees with Ms Kapoor's opinion.
"Vinod wanted his reporters and editors to devote time to the stories given to them rather than sit cooped up in office listening to his sermons," Mr Pillai writes.
Mr Mehta had stints with several newspapers in the country before he founded the Outlook magazine nearly 17 years ago.
Many senior journalists say his brand of journalism was "fearless".
"What distinguished Vinod from his contemporaries was that he was no respecter of reputations, and politicians particularly were the objects of his mockery. That's why when he moved to Delhi, he never developed a cosy relationship with ministers and politicians," writes Anil Dharker in the Hindustan Times.
'Resignation letter'
Mr Mehta will also be remembered for launching an influential Sunday newspaper.
"Vinod was greatly influenced by British journalism and his oft-stated ambition was to start a Sunday paper like London's Sunday Times or The Observer. Ashwin Shah of Jaico Publishers gave him that opportunity with The Sunday Observer," he writes.
Mr Dharker adds that The Sunday Observer "was probably the best Sunday paper in the country with often provocative articles and a letters page which became a Vinod Mehta trademark - opinions of every shade were allowed to be expressed, the more against the paper's views the better".
Mr Mehta was "hired and fired" by many newspapers before finding his permanent space in Outlook.
His admirers and critics both agree that he never gave in to any pressures from newspaper owners.
"No wonder, then, that for every proprietor who dispensed with Mehta's independent-minded editorship, after finding it politically expensive, there was always a new one coming along, sooner or later, asking him to launch or resuscitate something," writes Anjali Puri in the Business Standard.
Mr Dharker remembers that his former colleague was always ready to defend honest journalism, even if it came at the cost of his resignation.
"What Vinod Mehta showed is that if you are fearless, if you are ready with your resignation letter in your pocket (his phrase), you can keep pushing the boundaries one step at a time. You might offend a lot of people, hurt many interests, but in the end you will have bravely served the larger cause. Vinod Mehta continued doing this till the very end," he writes.
Mr Mehta's fearlessness was evident when he decided to publish recordings of phone conversations between top industrialists, politicians, bureaucrats and journalists in 2010.
The magazine's story sent shockwaves in Delhi's political circles.
'Nurturing talent'
Observers say Mr Mehta's journalistic achievements are well known, but his ability to spot and nurture talent is what sets him apart from other editors of his generation.
Many of today's top journalists either worked with him or had the opportunity to learn from him.
"I consider it my honour and privilege that I worked under him for a little over five years in the first half of the 1990s. I owe more than a case of the best Single Malt Whiskey money can buy for all that I learnt from him - about what to do and what not," writes Paranjoy Guha Thakurta in his Hoot website article.
Times Now TV channel's editor Arnab Goswami recounts a recent meeting with Mr Mehta in his tribute piece.
"He clasped my hands and I told him how proud I was of him, of his honesty and his journalism and how much I regretted the fact that I had never worked under him," he writes.
BBC Monitoring reports and analyses news from TV, radio, web and print media around the world. You can follow BBC Monitoring on Twitter and Facebook.