India media: Modi's Indian Ocean trip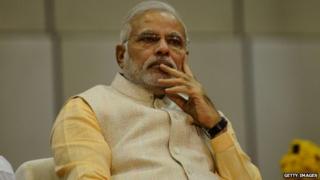 Papers and analysts back Prime Minister Narendra Modi's push to boost Delhi's ties with key Indian Ocean nations.
Mr Modi started his five-day visit to the Seychelles, Mauritius and Sri Lanka on Tuesday.
Analysts agree that island nations are important for India's security and economic interests in the region.
Mr Modi's visit "is reflective of India's desire to shore up its profile ties in the Indian Ocean region, a region long considered India's backyard but where Delhi's influence has been eroding slowly but steadily", writes Harsh V Pant in the DNA newspaper.
The Hindustan Times too welcomes the Modi government's push to bolster India's diplomatic presence in the island nations, but warns against any complacency.
The paper argues that "island hopping is important, but a recognition that 'India's Ocean' would entail an engagement on many levels and for an extended period of time is needed..."
"What damages New Delhi's oceanic influence the most, however, is a widespread sense of an India that has no maritime strategy, only intermittent political interest in the littoral states, and a general lack of urgency about its own ocean," it adds.
Senior foreign policy analyst C Raja Mohan argues that India needs to do more than a visit by the PM to make its presence felt.
"The problem for Mr Modi is that the change in Delhi's Indian Ocean policy has been too limited and incremental to cope with the maritime challenges staring at India. Delhi has not been good at tying different, new policy strands into a coherent strategy for the Indian Ocean," he writes in The Indian Express.
China's presence
Observers also feel that Mr Modi's efforts are aimed at countering China's growing presence in the region.
Mr Pant writes that Delhi and Beijing "are increasingly rubbing against each other as China expands its presence in the Indian Ocean region and India makes its presence felt in East and Southeast Asia".
"China has upped the ante with its ambitious $40bn Maritime Silk Road project aimed at connecting China with communication lines in the Indian Ocean and the larger Asia-Pacific region. India is only now beginning to take this challenge seriously," he writes.
The Hindustan Times adds that "Beijing's economic clout and military influence across the region, including the island nations Mr Modi is visiting, cannot be questioned".
Land acquisition bill
Meanwhile, the lower house of India's parliament on Tuesday passed a controversial land acquisition bill.
The bill eases rules for acquiring land for infrastructure projects. The government says it is aimed at kick-starting stalled projects across the country worth billions of dollars.
But opposition parties see the bill as anti-farmer and believe that it favours industrialists.
Mr Modi's ruling Bharatiya Janata Party (BJP) managed to get the bill passed because it has a majority in the lower house, The Times of India reports.
However, the BJP is likely to face a stiff challenge in the upper house where it doesn't have a majority.
Indian culture to beat swine flu
And finally, the health minister of the northern state of Haryana has asked people to stop the "foreign habit" of shaking hands to prevent the spread of swine flu.
Instead, Anil Vij feels that Indian people should stick to Namaste, a more traditional form of greeting with folded hands.
"You've had a bath, then you go and shake someone's dirty hand, and then all day you keep spreading that dirt to hundreds of people and so on, which is why we have to rid ourselves of this foreign habit," the NDTV website quotes Mr Vij as saying in the Haryana state assembly.
Swine flu has caused about 1,500 deaths in different parts of India this year alone, reports say.
BBC Monitoring reports and analyses news from TV, radio, web and print media around the world. You can follow BBC Monitoring on Twitter and Facebook.